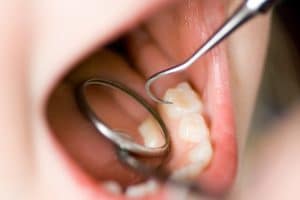 As adults, when we develop cavities we need a restoration, such as a filling, to repair the tooth and prevent complications. Children are no different! When a cavity forms in little smiles, or if a crack or chip occurs, then a minimal restoration may be necessary to return smiles to optimal health and beauty.
When Does a Smile Need Restoration?
If your child begins to complain about pain in and around one or more teeth, then bring him or her in for an exam. We will take a close look at the smile and identify the presence of a cavity or infection, or possibly a tooth with a fracture that is invisible to the naked eye. If we uncover these issues, we will administer treatment to halt the progression of decay and prevent complications. Don't assume the teeth will eventually just fall out on their own, as this could happen months from now. Ignoring the issue may lead to a painful infection and the risk of premature tooth loss, which increases the chances of misalignment and the need for orthodontics in their teen years!
Creating Your Child's Minimal Restoration
We will remove decay from the tooth and then carefully clean it. Next, we will begin to prepare the composite resin, a metal-free material that blends glass and acrylic compounds. We can shade this material to match the color of the tooth structure. We apply the material to the tooth and shape it as we cure the tooth under a light. The entire process takes one visit and prevents decay from becoming an infection. Your child leaves with a whole, healthy, and beautiful smile!
Preventing Damage and Decay
Following treatment, we will recommend visits every six months so we can monitor the smile and address possible problems in the earliest stages. The cleaning portion of these visits will remove all plaque buildup, which reduces the risk of gingivitis and cavities. At home, your kids should brush twice a day, in the morning and again at night, for about two minutes each session. We suggest an age-appropriate toothbrush and a toothpaste that contains fluoride for kids three and older. Cutting back on sugary foods and drinks, which could feed harmful bacteria, also helps safeguard the smile. If you have any questions about children's dentistry, or if your little one needs to see us for an aching tooth or a routine visit, then contact our team today.
SUNNY SMILES IN EL PASO TREATS LITTLE SMILES
At Sunny Smiles in El Paso, TX, we want to help you and your family enjoy healthy smiles with preventive dental care and restorative treatment. If you have questions about our custom-made and lifelike minimal restorations, then please call our East El Paso location on N. Zaragoza Road at 915-849-9000!