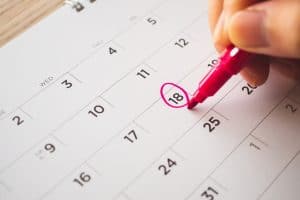 How often do you need to see your dentist for an exam? Does the frequency change based on age or the current state of your oral health? In today's blog, we're going to look at how often you should see us to have your smile examined and cleaned. We're also discussing the benefits of preventive care, for El Paso, TX, residents of all ages.
Every Six Months (Or Every Three)?
On average, we suggest that people see us to have their teeth cleaned and examined about once every six months. However, if you have to have high risk factors for gum disease, or other serious oral health concerns, then we may suggest one every three to four months so we can monitor these issues as they progress and administer treatment to prevent problems that could impact the stability of your smile.
Do Kids Need Them?
Yes! The first checkup needs to happen within six months of the first baby tooth's arrival. Afterward, we will suggest routine visits every six months. The initial visits are to make sure teeth are erupting properly and to ensure your child isn't at risk for baby bottle tooth decay. As they grow older, we'll keep an eye on developing misalignment, gingivitis, gum disease, and cavities and infection. The visits not only allow us to keep a close eye on smile's as they grow and develop, but can also reduce dental anxiety and allow our team to instill good dental habits, helping your little ones enjoy optimal oral health.
What Do You Look For?
We will look at your teeth for any indicators of tooth decay often treating them before you begin to suffer from tooth sensitivity and toothaches. We will look for wear and damage that could identify teeth grinding, and look at jaw joint strain for the indicators of TMJ disorder. We will examine your gum tissue to watch for inflammation, which could mean gingivitis or gum disease. Our team also examines the oral tissues and structures for lesions, rough patches, or areas of red and white splotches, which could often indicate cancerous or precancerous areas. Of course, we will also clean your teeth thoroughly to remove plaque buildup and help reduce the risk of cavities and gum disease. If you need to schedule a visit for you or a member of your family, please contact our team today. We're here to help you and your loved ones enjoy healthy, beautiful smiles!
TALK TO SUNNY SMILES IN EL PASO ABOUT PREVENTIVE DENTISTRY
At Sunny Smiles in El Paso, TX, we employ prevent measures to help safeguard your smile against cavities, gum disease, and other oral health concerns. If you have questions about preventive dentistry, you can reach our East El Paso dental practice on 10039 Dyer St., at 915-859-7000!