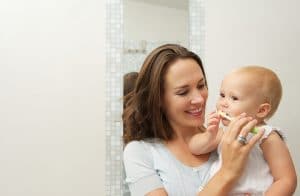 Children, like adults, need to see the dentist for routine preventive care. But when should families in El Paso, TX, bring their kids in for their first visit? In today's blog, we're going to talk about children's dentistry and when little ones should start seeing the dentist!
When to See Us
The first visit should happen within six months of the first baby tooth's arrival. This usually falls around age one. The first visit doesn't usually involve any treatment, instead we will simply examine the smile to ensure your child's teeth are erupting properly. We will discuss smile healthy foods and drinks, as well as proper brushing and flossing. In follow-up visits, we will monitor the teeth for signs of trouble. We want to help your little one enjoy optimal oral health!
Routine Exams and Cleanings
By age two, your child should be seeing us for routine checkups and cleanings every six months. The exam enables our team to watch for the onset of dental misalignment, as well as tooth decay and gingivitis. Identifying problems early means treatment to prevent the problem from becoming a serious concern. We can also discuss orthodontic solutions to reduce the impact of misalignment, and decrease the amount of time kids will need to wear orthodontics in their teens.
Our team will also clean the smile. Like adults, children develop plaque buildup as bacteria break down food particles. A sticky layer that coats the teeth, plaque can weaken tooth enamel, leading to erosion and a greater risk of cavities. The buildup also inflames gum tissues, increasing the risk of gingivitis in older kids. The cleaning allows our team to remove all plaque from the teeth and then polish them. Your little ones leave with a healthier, brighter smile and fresher breath!
Homecare for Babies and Toddlers
For babies, you should clean their teeth twice a day with an age-appropriate toothbrush, such as the ones that fit over your finger. Cloth or gauze will also work. The milk they consume could remain on and between the teeth unless removed, which means a greater risk of cavities. As your child enters toddler years, you should begin helping them brush twice daily, and also floss. A floss pick is great for younger kids. As they grow older, you can make sure they continue to brush and floss properly, which helps safeguard their smiles. If you have any questions about children's dentistry, or if you would like to schedule a visit for your child, then contact our team today.
SUNNY SMILES IN EL PASO OFFERS CHILDREN'S DENTISTRY
Our Sunny Smiles team helps kids of all ages enjoy optimal oral health. To learn more about children's dentistry, please call our East El Paso location on N. Zaragoza Road at 915-849-9000!