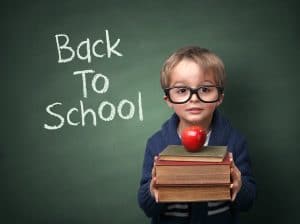 Pretty soon your little ones will be heading back to school. Which means right now your schedule is pretty hectic, with many parents sprinting to pick up school supplies and new clothes before the new school year begins. To ensure your child starts the year with a healthy and bright smile, be sure to also make time for a back-to-school checkup and cleaning with your El Paso, TX, dentist.
Checkups and Cleanings
We want to perform a thorough examination before you head back to school. Using advanced technology, your dentist will carefully examine your teeth, gums, and oral structures to assess the current state of your oral health. We want to watch for the indicators of common issues, such as tooth decay, dental infection, gingivitis, and gum disease. Our team will also watch for the warning signs of TMJ disorder and bruxism (teeth grinding), as well as developing misalignment and oral cancer. The fact is, the earlier we identify an oral heath concern, the sooner we can implement treatment and prevent serious complications. In the cleaning portion, we help protect teeth from cavities and gum disease by carefully removing all plaque buildup using an ultrasonic scaling device and a manual tool. The cleaning leaves the smile bright, the breath fresh, and the tooth surfaces smooth. In order to enjoy optimal oral health, patients of all ages need to have an exam and cleaning every six months!
Talk About Proper Brushing and Flossing
We also want to educate parents and kids alike about proper brushing and flossing. Ideally, you should brush your teeth when you wake up and again before going to bed. Each session should last about two minutes and employ a toothpaste with fluoride and toothbrush with soft bristles. You also need to floss thoroughly before going to bed to remove the bits of food trapped between the teeth. These steps are essential for keeping the smile free of cavities and gum disease.
Offer Healthier Snack Choices
The snacks we eat could impact our cavity risk. We suggest cutting back on foods and beverages that contain a lot of sugar, as this could feed harmful oral bacteria. Instead try to enjoy more water, or snack items like fruits, veggies, nuts, cheeses, or sugar-free gum. These steps help protect your smile, and your overall health as well. If you have any questions about keeping smiles healthy, or if you're ready for your back-to-school visit, then contact our team today.
SUNNY SMILES IN EL PASO KEEPS SMILES HEALTHY
Our Sunny Smiles offices want to help you and your little ones enjoy optimal oral health. To learn more about the our approach to preventive dentistry and children's dental care, please call our East El Paso location on N. Zaragoza Road at 915-849-9000!