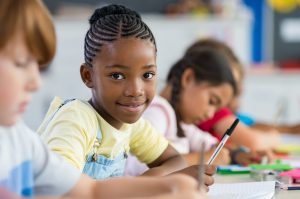 Without routine care, children's smiles could become susceptible to tooth decay, gingivitis, and other serious oral health concerns. To help ensure healthy smiles for all ages in El Paso, TX, our team may suggest preventive treatment options. In today's blog, we're going to look at two very different preventive treatments to help protect smiles from cavities.
Exams and Cleanings
To start, remember that your little ones need to have their smiles examined and cleaned twice a year. The first visit usually follows the eruption of the first baby tooth. By age two, kids should be undergoing a regular checkups and cleanings every six months. During these visits, we monitor the smile as it grows and develops, and catching oral heath issues in the early stages. We can then address decay before an infection begins, or treat gingivitis before gum disease develops. These visits also help children become accustomed to the sights and sounds of the office, reducing dental anxiety!
Fluoride Treatments
Fluoride is a naturally-occurring mineral that actually strengthens the outer layers of tooth enamel. In fact, that is why our country places fluoride in our drinking water, to help reduce the rates of tooth decay for people of all ages. For children, we may coat the teeth in a special fluoride varnish, which helps remineralize the protective layer of tooth enamel and safeguard the smile against tooth decay. The application only takes a few second and can be completed as part of a child's checkup and cleaning visit.
Dental Sealants
Children who brush and floss may have difficulty reaching the rear teeth, which means food could become trapped between these teeth and remains there. Over time, bacteria will break down the food particles, leading to increased oral acidity and plaque buildup and eventually, a greater risk of tooth decay and gingivitis as the plaque weakens tooth enamel and inflames gum tissue. However, with dental sealants we place a special acrylic coating to the rear teeth, which prevents food from becoming stuck between the teeth and lowers the risk of cavities and gingivitis. The layer will wear away slowly with time, but if necessary, we can re-apply in future visits. If you would like to learn more about preventing tooth decay and safeguarding little smiles, then please contact our team today. We would love to schedule a visit for your entire family!
TALK TO SUNNY SMILES IN EL PASO PREVENTIVE DENTISTRY
At Sunny Smiles in El Paso, TX, our team can protect smiles from the onset of tooth decay and other oral health issues. If you have questions about our children's treatment options, or if you want to set up an appointment, you can reach our East El Paso dental practice on 10039 Dyer St., at 915-859-7000!