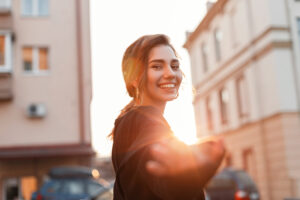 When you head to see your family for the holidays, you want to make sure that you look your best. After all, this may be the only time that you get to see these people for the entire year, and this is your opportunity to show them how you have changed since you last visited. If your smile is not looking as wonderful as you would like it to be, take this time to learn about your options in cosmetic dentistry before Christmas.
At our helpful dental clinic in El Paso, TX, you can walk into your next family gathering with a beautifully white smile, thanks to Philips Zoom! whitening treatment. This method gives you the opportunity to work with a talented dental provider for your cosmetic care, while still receiving the benefits of an at-home whitening solution. While it seems like there are whitening products available at every supermarket these days, the use of these products can actually be harmful to your smile if used improperly. For positive cosmetic dental results, talk with your dentist about lifting the shade of your smile with the help of a professional!
Work Alongside Your Dentist To Bring Holiday Cheer To Your Smile
If you are currently unhappy with the quality of your smile, start your cosmetic journey with an appointment for a cleaning and examination. You need these semiannual checkups every six months anyway, so it may be time for your next visit. While you are in the office, be sure to ask all of your oral health questions. If extrinsic enamel stains have you down, talk to your dentist about ways to gently and effectively lift them. By working with a trusted oral health professional, you can give yourself the gift of training and expertise to keep your teeth while you erase those stubborn stains.
Philips Zoom! Technology Can Help You To Have A Whiter Christmas
When you come in for your next cleaning and examination, your dentist may give you a diagnosis of extrinsic enamel staining. This can happen, as the things that you love to eat and drink can leave lasting reminders on the surface of your teeth.
With Philips Zoom! whitening, you can lift the stains from your enamel with a combination of in-office care and at-home treatment. Ask your provider about whether this is the right approach in safely whitening your teeth. This could be a great way to enhance your smile before the holidays!
Learn More About Philips Zoom! Whitening With Sunny Smiles
Dingy or dull teeth can really put a damper on your holiday experience. When you want to see a brighter smile when you look in the mirror, talk to our team at your neighborhood Sunny Smiles location on N Zaragoza Rd in El Paso, TX at (915) 849-9000.