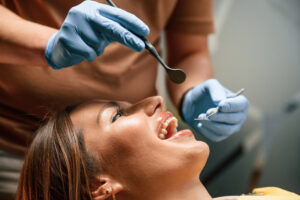 A dental checkup is a chance for our team to take a close look at your smile, so we can identify areas of trouble before they threaten smile stability. We recommend an exam visit for kids and adults alike every six months. In today's blog, Sunny Smiles wants to explain the benefits of seeing us for a dental checkup!
When You Need One
We recommend a dental checkup at least once every six months. This is the same for kids and adults alike. A checkup is a chance for our team to look at your smile using detailed digital x-rays and other imaging systems, examining the teeth, roots, gums, jaw, and oral structures. The process allows us to identify areas of concern, so we can begin treating oral health issues before they grow in severity and threaten your smile. For example, an early diagnosis of a cavity means we can place a simple filling before the tooth becomes infected and requires a root canal. For kids, this also allows us the chance to instill good oral health habits and reduce dental anxiety, so they're more likely to schedule visits as adults.
What Happens During a Dental Checkup
During the exam, you will sit down in one of our chairs and we will ask a few simple questions about your oral hygiene routines and your past dental history. We will then take a close look at the teeth with digital imaging systems, which display pictures chairside, so we can walk you through the diagnosis and you don't spend forever sitting in the chair waiting on x-ray development. If we find areas of concern, we will create a personalized treatment plan to address them and improve your overall oral health. Remember, these are essential for kids as young as two, as well as teens and adults!
What Happens Next?
If we find something concerning, such as a cavity or possibly gingivitis, then we will schedule a follow up visit to administer treatment and help restore your smile. We will also suggest changes to your oral hygiene routines to better protect your smile, so you avoid these issues completely. If you have any questions about how we diagnose and treat oral health concerns, then contact our team today to get started. We want to help you enjoy your healthiest possible smile!
TALK TO SUNNY SMILES IN EL PASO, TX, ABOUT DENTAL CHECKUPS
Regular visits for routine dental exams can help kapa smiles strong and healthy, for kids and adults alike. If you're ready to schedule your next dental exam visit, then contact our Sunny Smiles location on N Zaragoza Rd in El Paso, TX at 915-849-9000. Don't let your oral health suffer, protect your teeth and gums with preventive dentistry.