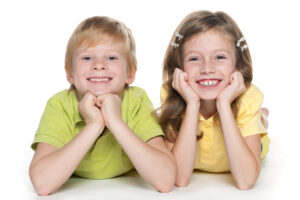 Children need to see the dentist for regular checkups and treatment, just like adults do! Otherwise, they could develop painful cavities and other oral health complications. In today's blog, Sunny Smiles talks about how we treat little smiles to keep them strong and healthy!
Starting With a Checkup and Cleaning
We want to see your children for a routine checkup and cleaning, just like we do with you! These visits should start at around age two. The checkup portion of the visit enables us to examine the smile with digital x-rays, identifying concerns like tooth decay or complications with the loss of primary teeth and the arrival of permanent teeth. We can then recommend treatment to protect the smile. In the same visit, our team will clean the teeth thoroughly. The cleaning involves removing all plaque and tartar from the teeth with an ultrasonic scaling device and a manual tool, which helps fight tooth decay, gingivitis, and keeps the teeth brighter too.
Our Minimal Restorations
What if a tooth is damaged or develops a cavity? Our team can offer minimal restorations that preserve more of the natural tooth structure and also offer a lifelike appearance. Composite resin is a metal-free material safe for all ages, which can be shaded to blend with your smile. The material can be used in our tooth-colored filling procedures to extract cavities, or as part of a bonding procedure to address minor damage. The placement process only takes one visit!
Preventive Treatment Options
Our team could also discuss treatments to help lower your child's risk of cavities in the future. For example, during each checkup visit we could apply a topical fluoride gel to the teeth. The gel actually strengthens outer enamel, and remineralizes the weakened portions, to help prevent cavities. We could also discuss dental sealants. These are a special acrylic material we apply to the rear teeth. The application takes only minutes, but keeps food particles from becoming stuck on or between these teeth, limiting the risk of tooth decay. With both options, kids will need to avoid eating or drinking for about 30 minutes after application.
If you have any questions about how our team treats little smiles and helps children enjoy optimal oral health, then contact our team today to learn more. We look forward to seeing your child!
TALK TO SUNNY SMILES IN EL PASO, TX, ABOUT CHILDREN'S DENTISTRY
We would like to make sure your kids can maintain bright and beautiful smiles for years to come. If you're ready to help your kids enjoy better oral health, then contact our Sunny Smiles location on N Zaragoza Rd in El Paso, TX at 915-849-9000. With a simple checkup, we can start your child's path to a bright and healthy smile.