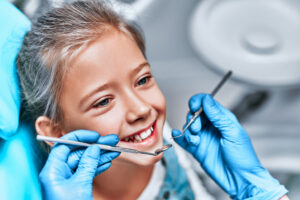 We don't just offer care for adults, we also provide treatment for kids of all ages too. Children's dentistry can help little ones enjoy healthy smiles, and also improve their long-term oral health too. In today's blog, your El Paso, TX, dentists explain how children's dentistry helps your kids!
Easing Dental Anxiety and Instilling Good Habits
When children see us for regular visits every six months, we provide more than just a checkup and cleaning. Our team helps instill good oral health habits, and aid in your child's understanding of their oral health. In addition, these visits help them become accustomed to seeing the dentist, so they're less likely to have dental anxiety or avoid care as adults. A simple checkup every six months means we also monitor the smile as it grows, and can identify concerns in the early stages, such as cavities, gingivitis, or even developing misalignment. We also clean the teeth to remove all plaque and tartar buildup, which lowers the risk of tooth cavities and periodontal concerns in the future. Cleaning also help smiles stay bright!
Fillings
If we do discover a cavity, or minor damage, we can offer a filling with composite resin, and in only one visit. This material is metal-free and can be shaded to blend with your smile seamlessly. In one visit, we remove decay and clean the tooth. We then etch the surfaces of the teeth and apply the material in several layers, sculpting the tooth as the material cures beneath a light. The last step is to polish the tooth. You enjoy lifelike results in one visit. We can treat tooth decay, and also repair minor chips and cracks too.
Fluoride Treatments
To help prevent cavities, we can apply a topical fluoride gel to the surfaces of the teeth during each checkup visit. The material helps strengthen the outer enamel to make cavities less likely. The application takes only a minute or two, and kids just need to avoid food and drink for about 30 minutes afterward. You should make sure your kids are using fluoride toothpaste when they brush each day!
Dental Sealants
Many kids have trouble reaching the rear teeth when they brush and floss. Which means these molars are especially vulnerable to tooth decay. But with dental sealants, we apply an acrylic coating that keeps food and drink particles from being stuck between these hard-to-reach teeth. The sealants can even stay in place for up to ten years!
TALK TO SUNNY SMILES IN EL PASO, TX, ABOUT CHILDREN'S DENTISTRY
We would like to help your kids enjoy healthy smiles for many years to come. If you're ready to schedule a visit for your little one, then contact our Sunny Smiles location on N Zaragoza Rd in El Paso, TX at 915-849-9000.