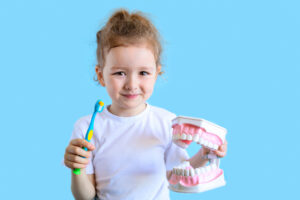 Children should see the dentist on a regular basis, just like you do! Children's dentistry helps them enjoy better oral health, and obtain a better understanding of their own smiles. In today's blog, your El Paso, TX, dentist talks about how kids benefit from regular care with our team.
Checkups and Cleanings For Kids
For kids, treatment begins with a simple checkup and cleaning visit with our team. The checkup involves a careful examination with digital x-rays and intraoral cameras, so we can conduct a diagnosis with precision and accuracy. We then create a treatment plan to address any concerns we uncover, such as tooth decay, infection, gingivitis, or complications that could lead to dental misalignment.
In the same visit, we also clean your child's teeth. A dental cleaning involves removing all plaque and tartar buildup from the smile, and doing so with an advanced ultrasonic scaling device and a manual pick. We then polish the teeth thoroughly. The cleaning helps fight cavities and gingivitis by removing harmful buildup, and at the same time limits bad breath and teeth stains too!
Preventing Cavities
Our team also offers treatments to help prevent the onset of tooth decay. To prevent cavities, we can discuss a topical fluoride gel, applied during each checkup visit. The gel actually remineralizes the outer enamel to limit the risk of cavities. Application takes minutes, and kids need to avoid food and drink for about 30 minutes. You can also help by making sure your kids use a fluoride toothpaste too!
We also have dental sealants. The rear teeth are difficult for kids to reach when they brush and floss, which leaves them vulnerable to tooth decay and dental infection. But with sealants, we coat these teeth in a special acrylic layer, so food and drink particles no longer cling to them. The sealants stay in place for up to ten years, and wear away gradually with time.
Lifelike Dental Restorations
If our team does discover a cavity, rest assured with a lifelike and safe treatment option. Instead of metal, we offer fillings made from composite resin, which can be shaded to blend with the teeth and is also safe for all ages. Placing a filling only takes one visit, and helps protect the smile. If you have any questions about how we help smiles of all ages stay healthy and strong, or if you would like to schedule a visit for your child, then contact our team today.
TALK TO SUNNY SMILES IN EL PASO, TX, ABOUT CHILDREN'S DENTISTRY
Our team wants to help kids of all ages enjoy optimal oral health. If you're ready to see our team for children's dental care, then contact our Sunny Smiles location on N Zaragoza Rd in El Paso, TX at 915-849-9000.