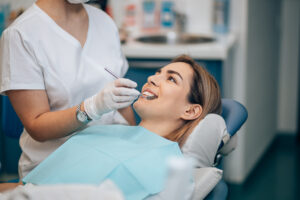 A dental exam is crucial for keeping smiles healthy and strong, and allowing us to address concerns in the earliest stages. We suggest these for both kids and adults at least twice a year. In today's blog, your El Paso, TX, dentists talk about the importance of your routine dental exam and why your whole family needs one twice a year!
When Checkups are Necessary
When was the last time you and your family received a dental exam? We recommend one at least once every six months, as this allows us to identify serious concerns and treat them before they threaten smile stability. Otherwise, the early stages of decay that we treat with a filling could lead to a major infection that requires a root canal and crown. These help patients of all ages, and should begin as young as age two. Our team will offer a diagnosis with precision and accuracy by using digital x-rays and intraoral cameras, which employ a fraction of the radiation that traditional systems use, and provide detailed images chairside, limiting your time in the office.
The Concerns We Watch For
For all ages, we look for the early signs of tooth decay, dental infection, and gingivitis. For adults, we also look for indicators of TMJ disorder, bruxism, and gum disease, and we screen for oral cancer too. For kids, we want to make sure that primary teeth are arriving and falling out on schedule, and that permanent teeth have a clear path to eruption, limiting their risk of misalignment. Our team will also create a personalized treatment plan to ensure you receive care tailored to your smile.
What Happens Next?
At the end of the visit, we may talk to you and your family about methods of improving your oral hygiene from home, and how to better safeguard your smile. We can also schedule a follow up visit as needed for treatment, such as lifelike fillings to treat tooth decay, or to create a custom appliance to tackle TMJ disorder or bruxism. We want to make sure you and your loved ones can maintain optimal oral health for years to come. If you have any questions about our approach to preventive dentistry, or if you would like to schedule a checkup and cleaning visit for you or someone you love, then contact our team today.
TALK TO SUNNY SMILES IN EL PASO, TX, ABOUT PREVENTIVE DENTISTRY
A dental exam helps us maintain good oral health for patients young and old, so be sure you schedule one soon. If you're ready to schedule a visit for your next checkup and cleaning appointment, then contact our Sunny Smiles location on N Zaragoza Rd in El Paso, TX at 915-849-9000. Let's work together to keep your smile strong and bright!