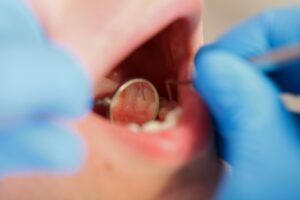 When was the last time you made a checkup visit with our team? We urge members of our community to see us every six months for a dental exam. In today's blog, your El Paso, TX, dentists discuss how an exam can help people of all ages, and why you should schedule one every six months.
The Reasons for an Exam
A dental exam involves our hygienists and dentists taking a look at your teeth, gums, jaw, and oral structure to assess the state of your oral health. Often, these visitors enable us to identify serious issues in their earliest stages, so we can provide treatment before you or your family develop painful symptoms or risk tooth loss. Which is why the American Dental Association (ADA) recommends one every six months for people of all ages, starting as young as age two. This is key for protecting your oral health and ensuring you enjoy a stable and attractive smile for years to come.
Taking a Look at Your Smile
How do we offer a diagnosis with precision and accuracy? Well, our team will first take detailed diagnostic images using digital x-rays and intraoral cameras. These images will be detailed and available instantly chairside, no bitewings and no wait for development. The systems use a fraction of the radiation, and enable us to make a diagnosis with precision and accuracy. We can identify tooth decay, infection, gingivitis, and even gum disease. Our team will screen for oral cancer and also look for the indicators of TMD or bruxism (teeth grinding). For kids, we look for tooth decay and also make sure the primary teeth are erupting and falling out as they should, and that there are no complications for the eruption of the permanent teeth.
Once we complete your exam, we can create a treatment plan to address the concerns we discover, and we can discuss better at-home hygiene to protect your teeth and gums from future concerns.
The Dental Cleaning
In the same visit, our team will conduct a dental cleaning as well. The procedure employs an ultrasonic scaling device and a manual pick to thoroughly and gently remove all plaque and tartar from smiles of all ages. Doing so helps fight bad breath and teeth stains, and lower the risk of tooth decay and gingivitis. If you have any questions about our preventive visits, or if you would like to schedule a visit, then contact our team today to learn more.
TALK TO SUNNY SMILES IN EL PASO, TX, ABOUT PREVENTIVE DENTAL CARE
We would like to help safeguard your smile with a preventive approach. If you're ready to see our team for a routine dental visit, then contact our Sunny Smiles location on N Zaragoza Rd in El Paso, TX at 915-849-9000.