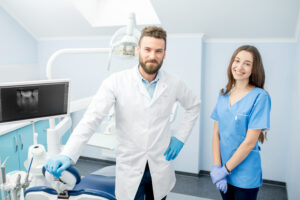 Taking too much time between dental exams leaves you less protected against cavities and gum disease. People who leave larger gaps between checkups can have a more difficult time avoiding difficulties with cavities and gum disease, and they can also let these problems develop and worsen to the point where they require more advanced care. In addition to providing updates about the condition of your smile and offering in-office care, Sunny Smiles can discuss different matters of good oral hygiene with you. This guidance can help you adjust your habits to more easily avoid trouble with your health and well-being. You can also use these visits as opportunities to discuss different matters like treatments that lead to cosmetic improvements.
Your Exams Give You Opportunities To Discuss Your Smile Concerns With Your Dentist
Whether you are bothered by discomfort in your face and jaw or the way you look when you show off your smile, you can bring these matters to your dentist. Every routine oral health exam and cleaning can be both a time for standard protections and an opportunity to learn more about what can be done at our office. Remember that when you put off these visits, even at times when you feel your smile is not likely to have any problems, you are more likely to have problems like tooth decay or gum disease that need to be addressed as part of your care.
Discussing Oral Health And Discomfort-Related Concerns
Cavities, gum disease, and other concerns are identified and treated during routine dental exams. You may be surprised to find that these issues can actually escape a patient's notice. This visit is also a good opportunity to find out about other concerns. Bringing up issues like nighttime teeth grinding or a tendency for your jaw to feel stiff or sore can result in a discussion of treatment for bruxism and TMJ disorder. These issues can impact your quality of life and even your appearance, as they can cause facial pain, headaches, dental damage, and other kinds of harm.
Bringing Up An Interest In Cosmetic Dentistry
Another benefit to a dental exam is that it provides an opportunity to ask questions about cosmetic dentistry and how it can impact how you look. A single procedure can make you feel more comfortable with your smile by targeting a specific issue or making broader improvements to make teeth look brighter, healthier, and lovelier. You may be surprised to find that changes that feel ambitious can be made in just one or two appointments!
Talk To Sunny Smiles About Booking Your Next General Dental Exam
If you need to book your next general dental exam, contact Sunny Smiles on Dyer St in El Paso, TX by calling 915-859-7000.