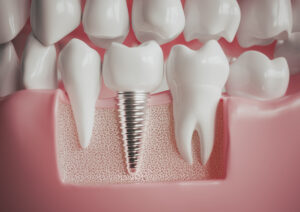 When you lose natural teeth, lack of treatment could cause the health, function, and beauty of your smile to suffer. For long-lasting tooth replacement, our team could support new teeth with dental implants. In today's blog, your El Paso, TX, dentists take a close look at the benefits of our dental implants.
The Factors Behind Tooth Loss
Losing our teeth can occur when a cavity or infection remains untreated, causing the tooth to either require extraction or to fall out. Injury could be responsible too. The most common cause is actually periodontitis, the advanced stage of gum disease. When you lose your teeth, the body will suspend the flow of calcium and phosphates to the jawbone, and without these nutrients, the bone tissue loses mass and density. You suffer from tooth loss and a prematurely aged appearance. In addition, tooth loss is linked to issue eating, problems speaking clearly, and even the onset of misalignment or jaw joint concerns like TMJ disorder and bruxism (teeth grinding). But with dental implants, we can not only fill the gaps in your smile, but strengthen your jaw and protect your youthful facial features.
The Dental Implant Difference
Unlike prosthetics that are held in place with suction, clasps, or crowns, dental implants are inserted into the jawbone. These biocompatible titanium posts are accepted as new roots, and bond with the jawbone. The body accepts them as roots, and the flow of calcium and phosphates to the jaw around your new tooth resumes. Not only does this protect your jawbone, but this also ensures your new teeth have the potential to last for decades to come, possibly even a lifetime! Our team can use them to replace individual missing teeth, and also to address more severe cases by securing a fixed prosthetic, such as dentures.
Securing Restorations and Prosthetics
Once we insert the posts, the placement area needs to heal. Once it does, we add an abutment to the post that extends above the gum line, so we can attach a crown for a single one, or a portion of a prosthetic if you have multiple posts. In some cases, we can insert the posts and connect the denture in the same visit, so you leave with a complete smile. If you have any questions about how we use dental implants to create a new smile, then contact our team today to learn more. Let's restore your smile!
TALK TO SUNNY SMILES IN EL PASO, TX, ABOUT CREATING A NEW SMILE
We know how tooth loss impacts your smile, and we want to help. If you're ready to schedule a visit and complete your smile, then contact our Sunny Smiles location on N Zaragoza Rd in El Paso, TX at 915-849-9000.