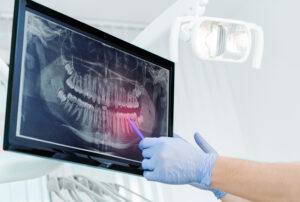 We offer care for people of all ages, and can address concerns with the health, function, and beauty of the smile. We also strive to offer care with precision and accuracy, which is why we use digital technology as part of the diagnosis and treatment planning period. In today's blog, your El Paso, TX, dentists talk about digital x-rays.
When Should You See Us?
We recommend a visit every six months for kids and adults alike, so we can keep an eye on the smile and identify areas of concern in the earliest stages, before you suffer from discomfort or risk tooth loss. Outside of these routine checkup and cleaning visits, you should see us if you or a member of your family complains about aching teeth, or experiences sore, red gums that bleed easily. Pain in the jaw and head is also cause for concern. With our digital x-ray system, we can diagnose the cause of the discomfort and offer care to protect the smile from worsening pain, and from oral health complications.
Digital X-Rays
We diagnose smiles with precision by employing our digital dental x-rays. They use 90% less radiation than  traditional radiology systems, and they don't need to be developed in harsh chemicals, saving you time in the chair and offering environmental benefits. The images are instantly projected onto high-definition screens. We can walk you through the diagnostic process chairside, so you better understand the state of your smile and the treatments you may need to improve your oral health. These can also easily be sent to other practices or specialists as needed.
Panoramic Imaging
For a more advanced and comprehensive model of your smile, we can use panoramic digital x-rays. This low-dose system creates a single image that contains your teeth, roots, jaw, and oral structures. The detailed and accurate image then allows us to make a diagnosis with precision and accuracy. We can also take measurements of your smile, which can be used in place of a physical impression to design restorations and oral appliances. No need for molds filled with sticky materials. Instead, we can provide treatment and smile care with improved precision.
If you have any questions about how we diagnose and treat smiles using advanced technology, or about our digital x-rays in particular, then contact our team today to learn more. We want to help you and your family enjoy your best possible smiles for years to come!
TALK TO SUNNY SMILES IN EL PASO, TX, ABOUT OUR TECHNOLOGY
Our team wants to make sure you obtain dental care with precision and accuracy. If you're ready to schedule a visit and receive personalized treatment, then contact our Sunny Smiles location on N Zaragoza Rd in El Paso, TX at 915-849-9000.