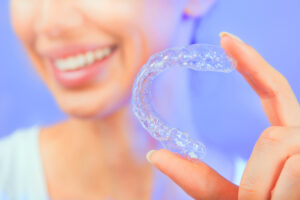 You can often buy over-the-counter teeth whitening strips and toothpastes, and while they can brighten smiles, the results are short lived and could lead to tooth sensitivity. But our team offers an option that can brighten smiles from home! In today's blog, your El Paso, TX, dentists talk about our at-home teeth whitening.
The Causes of Teeth Stains
Our teeth can become stained for a number of different reasons. For example, if you drink beverages with dark pigments, like tea, red wine, coffee, and soda, this can discolor the surfaces. Foods high in sugar and starch can promote plaque buildup this makes discoloration more apparent. Tobacco use and infrequent brushing and flossing can leave smiles discolored too. The causes vary, and as part of your treatment we will identify and assess the cause and extent of your teeth stains, so we can choose the most appropriate option for your smile.
Removing Them From Home
Our team can often remove teeth stains from the comfort of your own home. Our take-home teeth whitening option provides more dramatic results that store bought options, and also reduces the risk of tooth sensitivity. To get started, simply schedule a visit with our team. We will take detailed digital images of your smile and use them to create a set of plastic trays. These will fit snugly and comfortably over your teeth, and help with the whitening process. We send these trays home with you, along with plastic syringes of a powerful bleaching gel. At home, the trays are filled with the gel and then worn for about 30 to 45 minutes a day, depending on our recommendations. You repeat this for one to two weeks to see optimal results. Your teeth could be up to eight shades brighter! The trays ensure the results are even across your smile, and that the gel is never diluted by saliva. The trays and any remaining gel can be used as touch-ups in the months to come.
Keeping Your Teeth Bright
Good oral hygiene habits can also help your teeth stay bright. Be sure you take time to brush and floss daily, and cut back on foods and drinks high in sugar and starch. These actions limit the severity of plaque buildup until we can see you for a cleaning, in which we remove all the buildup up and polish your smile. These actions also help fight tooth decay and gum disease! If you have any questions, then give us a call today.
TALK TO SUNNY SMILES IN EL PASO, TX, ABOUT COSMETIC DENTAL CARE
We want to help you maintain good oral health and a brighter smile. If you're ready to enjoy a brighter smile, then contact our Sunny Smiles location on N Zaragoza Rd in El Paso, TX at 915-849-9000.