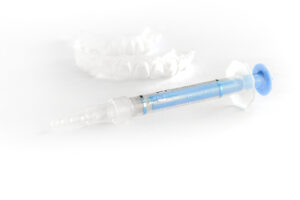 Do you wish you had a brighter smile? If so, then don't waste your time with store bought strips and toothpastes. Instead, we can offer a professional teeth whitening option with dramatic results! In today's blog, your El Paso, TX, dentists talk about the advantage of removing stains with our professional trays and gel.
The Causes of Teeth Stains
Our teeth develop unsightly discoloration for several possible reasons. For example, foods and drinks high in sugar, combined with improper brushing and flossing, could allow plaque buildup to flourish and make stains more visible. Beverages with dark pigments, such as soda, red wine, tea, and coffee also make discoloration occur too. Smoking cigarettes and using other tobacco products could be a factor too. To remove these, you need teeth whitening.
Over-The-Counter Treatments and Their Downsides
You can easily purchase strips or toothpastes that offer whitening at the store. But the fact is, many of them offer only minor results that don't last very long, and could be a source of tooth sensitivity too. For dramatic results, you need to talk to our team about our professional teeth whitening options. We will first examine your smile to assess what type of discoloration you have. Extrinsic stains, which form on the surfaces of the teeth, can be easily removed with our trays and gel. Intrinsic discoloration, which forms beneath the enamel and is often brought on by injury to the tooth, the use of certain medications, or fluorosis, may not respond well to traditional systems. However, should your smile have this type of discoloration then our team could simply mask them with dental bonding, porcelain veneers, or a combination of the two.
Our Trays and Gel
How does our tray and gel system remove discoloration? First, you stop in for a visit so we can take detailed digital impressions of your smile and use them to create a set of plastic trays. You will take these trays home with you, along with plastic syringes filled with the bleaching gel. Once home, you will fill the trays with gel and wear them for about an hour each day. Total results take about one to two weeks, and for some teeth could be up to eight shades brighter in the time. You then keep your trays and any leftover gel if you need touch-ups in the months to come.
If you have any questions about how we brighten smiles with teeth whitening, then contact our team today to learn more.
TALK TO SUNNY SMILES IN EL PASO, TX, ABOUT TEETH WHITENING
Our team is ready to brighten your smile by several shades. If you're ready to schedule a visit with our team, contact our Sunny Smiles location on N Zaragoza Rd in El Paso, TX at 915-849-9000.