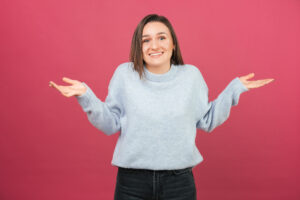 If you want to do something about the color of your smile, you may hope to see the results you want from a store bought treatment. While doing so can help, you may only see limited benefits from this approach. One reason for this is that you may have deeper and tougher stains to contend with, something that store bought products can be ineffective at addressing. Another is that you may need to do something about discoloration within the tooth structure rather than external stains. Sunny Smiles can help you find the right treatment approach to change your confidence in how you look. With the different cosmetic dental treatments that we offer, we can help you see lasting improvements and start showing off a smile that is significantly brighter!
Has Dental Discoloration Hurt Your Confidence?
When you develop doubts about your smile, your confidence can suffer. One reason people start to feel unhappy with their appearance is due to worsening issues with discoloration. Problems with the accumulation of stains, or with changes within the tooth structure, can leave you with a smile that looks unattractive and makes you appear older as well as less healthy. Regaining an appearance that you are happy with can be easier than you anticipate when you look at your options for cosmetic dentistry. Our practice can recommend taking home a whitening kit to fight enamel stains, or we can provide you with different treatment options if you are seeking help with intrinsic discoloration.
Taking Home A Whitening Kit That Can Give You A Better, Brighter Smile
What makes a professional teeth whitening kit different than a treatment that you purchase from your local grocery store or pharmacy? Working with your dentist means enjoying a treatment solution prepared just for you. Kits that we provide contain trays that are made for individual patients as well as bleaching agents that are strong enough to make noteworthy improvements. Using your treatment on a daily basis can lead to your smile being many shades brighter.
Pursuing Treatment For Intrinsic Discoloration
Upsetting changes within your tooth structure can lead to discoloration that requires something other than a treatment for external stains. Instead of taking this approach, you can rely on a different cosmetic dental procedure to hide blemishes and change your smile for the better. Porcelain veneers can produce positive changes by capping teeth that are discolored; they can also help by correcting problems with their shape, size, and condition.
Sunny Smiles Is Ready To Help You Make Your Smile Whiter And More Attractive?
Through treatment to fight dental discoloration, you can enjoy a more youthful and attractive smile! For more information on how we can help you see the right results, contact our Sunny Smiles location on N Zaragoza Rd in El Paso, TX today at 915-849-9000.