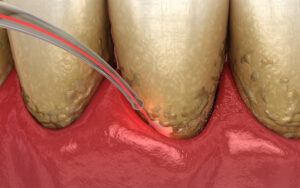 When you have issues with the appearance of your gums, this can make your teeth appear small or uneven. No amount of teeth whitening and dental bonding can correct these concerns. You need to alter your gum tissues. In today's blog, your El Paso, TX, dentists talk about the gum contouring process.
The Factors Behind Your Gummy Smile
Issues with the growth and development of your smile could lead to excessive gingival tissues being displayed when you smile. These excess tissues can cause a gummy smile, and your teeth could look uneven or even smaller than usual. As part of your treatment, we will thoroughly examine your smile to assess the factors behind your cosmetic imperfections, so we can plan treatment with precision and accuracy. Our team will be able to correct these imperfections in one visit with precision and accuracy using gum contouring.
Gum Contouring
Our team will examine your smile thoroughly examine and then mark the areas where we will be trimming away excess tissues to complete the gum contouring. We then employ a dental laser to do so with precision. The laser means no end for scalpels and sutures, so the procedure is much more comfortable. We then remove these and reshape the gum line to improve symmetry and beauty. These lasers also allow us to treat issues with periodontal disease, so our team can remove diseased tissues and allow healthy gingival tissues to adhere to the teeth, reducing the depth of periodontal pockets and allowing us to manage the issue with a deep cleaning or traditional cleaning very there to four months.
The Benefits of Dental Lasers
Laser dentistry offers a number of different benefits for our patients. For example, we can complete care in a single visit, and most people return to normal activities after only a day of rest. The lasers target areas with precision, so no damage to healthy surrounding tissues. Since they essentially cauterize the treated area, this prevents swelling, infection, and bleeding, and we rarely need anesthesia either, so the procedure is a comfortable one. Whether you need treatment for advanced periodontal disease, or a cosmetic treatment to improve overall imperfections, then contact our team today to learn more. We want to help you smile with confidence again!
TALK TO SUNNY SMILES IN EL PASO, TX, ABOUT GUM CONTOURING
We're ready to help you smile without hesitation again, and we have a comprehensive array of cosmetic treatments to improve every facet of your smile, from stained and misshapen teeth to excessive gums and even misalignment. Let's transform your smile in 2023! If you're ready to treat your gingival concerns, then contact our Sunny Smiles location on N Zaragoza Rd in El Paso, TX at 915-849-9000.