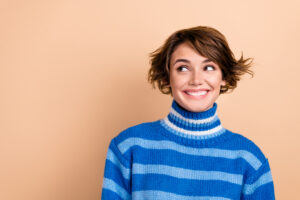 Often, our cosmetic treatments can improve the beauty of your teeth, including teeth whitening and our dental bonding procedures. But what about the gums? When you have a gummy smile, this could have a negative impact on the appearance of your smile. Fortunately, your El Paso, TX, dentist talks about improving smile symmetry with gum contouring.
Gummy Smiles and Other Cosmetic Concerns
We recommend this cosmetic treatment for issues caused by the appearance of the periodontal tissues. A gummy smile refers to a situation in which too much gingival tissue is apparent when a person smiles or talks. This could occur due to issues with the growth and development of the smile. This could make teeth appear misshapen or uneven, further impacting the appearance of your smile. With a cosmetic treatment, we can simply recontour the gum line to improve overall beauty and symmetry.
Gum Contouring
To begin, our team will carefully examine the smile and then mark the areas that need to be removed or reshaped. We then use a dental laser to gently remove these excess tissues, and reshape the gum line with precision and accuracy. The use of lasers offers better precision than scalpels and sutures. This also offers a faster healing period, as the laser essentially cauterizes the treated areas to lower the chances of swelling, bleeding, and infection. The procedure is also comfortable and rarely needs any dental anesthesia. People typically rest for a day and then return to normal activities. Our team also offers tooth contouring, but this involves sanding and buffing the outer structure to improve overall esthetics, correcting minor chips, misshapen or overly large portions of structure, and dulling sharp or jagged parts of the teeth. We also smooth out surface issues with the smile too.
Treating Periodontal Issues
The gum contouring procedure and the technology we use can also be used to aid in treating periodontal issues, as our team can gently trim away diseased tissues to help manage the disease. We then move forward with preventive care.
If you have any questions about how our team treats issues with the gum line using advanced laser technology, or if you would like to schedule a cosmetic solution to see which treatments are necessary to improve overall smile beauty, then contact our team today to learn more. We're ready to help transform your smile in as little as one visit, so you can always smile with confidence.
TALK TO SUNNY SMILES IN EL PASO, TX, ABOUT GUM CONTOURING
Our team is eager to help you smile with confidence following cosmetic treatment. If you're ready to schedule a visit and improve your smile's appearance, then contact our Sunny Smiles location on N Zaragoza Rd in El Paso, TX at 915-849-9000.