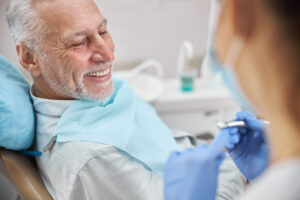 To maintain good oral health and avoid the onset of issues like cavities and gum disease, people of all ages in our community need to undergo preventive appointments. Dental checkups and cleanings can help smiles, and we recommend them every six months. In today's blog, your El Paso, TX, dentists talk about checkups and cleanings.
Six Month Appointments for Kids and Adults
People of all ages, kids and adults alike, need to have a checkup and cleaning every six months. These visits allow our team to watch for the earliest indicators of poor oral health, and treat concerns as they arise before painful symptoms develop or the teeth risk being lost. If you haven't had your first visit of 2023, now is a great time to schedule one. You may also need to see us should you or another member of your family develop toothaches or tooth sensitivity, or soreness in the gums, as these could indicate the presence of tooth decay, infection, or even gingivitis and gum disease.
The Exam
When you come in for a checkup and cleaning every six months, we will take a close examination of your smile with detailed digital x-rays and intraoral cameras, which offer a diagnosis with precision and accuracy. The exam could identify the presence of cavities, dental infections, or issues with your gum health. We also look for TMJ disorder, bruxism (teeth grinding), and for adults, we will screen for oral cancer. For children, we will make sure teeth are falling out and erupting as they should. We also have unique preventive treatments for children to help lower the risk of tooth decay, such as fluoride treatments and dental sealants.
Removing Plaque
In the same checkup and cleaning visit, our team will remove all plaque and tartar from the surfaces of the teeth. This buildup develops when harmful oral bacteria consume food and drink particles, especially those that consist of sugar and starch. This creates a layer on the teeth that can't be removed with brushing and flossing alone. The layers could otherwise lead to cavities, gingivitis, gum disease, and even bad breath and teeth stains.
With the procedure, we remove the layers using an ultrasonic scaling device and a manual tool. We then polish the teeth for a brighter appearance and a smoother finish. If you have any questions about scheduling your next checkup and cleaning, then contact our team today to learn more.
TALK TO SUNNY SMILES IN EL PASO, TX, ABOUT PREVENTIVE DENTAL CARE
Our team wants to help you enjoy optimal oral health with preventive dentistry. If you're ready to schedule a visit with our team, contact our Sunny Smiles location on N Zaragoza Rd in El Paso, TX at 915-849-9000.