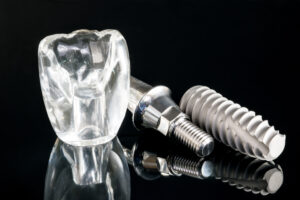 When you have major tooth loss, you may assume that addressing this concern will require multiple visits and a lot of time out of work or school. However, we could potentially complete the process for you in only one visit. In today's blog, your El Paso, TX, dentists talk about the benefits of same-day dental implant dentures.
The Reasons to Tackle Tooth Loss
When you lose a significant number of your natural teeth, this could mean major problems for your overall quality of life. You could find your favorite foods out of reach, and be forced to rely on only soft food items. In addition, speaking clearly could be problematic, which impacts your social life. Your remaining teeth could shift from position to cause misalignment, and you could be more likely to develop TMJ disorder and bruxism (chronic teeth grinding). But the major complication is the gradual breakdown in the jaw, the loss of mass and density around your missing roots. This could cause an aged appearance!
Dental Implants
Dental implants are an excellent way to treat tooth loss, even in major cases. These involve inserting several biocompatible titanium posts into the jawbone, choosing the perfect angle and position to support new smiles and also stimulate the growth of jawbone structure too. This prevents the breakdown in the smile, so you maintain your current facial structure, and your new teeth could last for decades instead of just 5 to 10 years. Typically, there is a period of weeks or months in between placement of the posts and the attachment of your prosthetic. This is to allow osseointegration to occur. But for some patients, we could complete the entire process in one appointment with same-day dental implant dentures!
Same-Day Placement
With this option, we will insert the post and then attach abutments to them. We then connect the custom-made denture, crafted beforehand, to the posts. You leave with a complete smile, no need to miss several days of work or school, no reliance on a temporary one, and a faster healing period. This also helps protect and preserve your jawbone structure to keep your smile strong, so you can smile with confidence and eat your favorite foods again.
If you have any questions about how we treat major tooth loss, or if you're ready for same-day dental implant dentures, then contact our team today to learn more.
TALK TO SUNNY SMILES IN EL PASO, TX, ABOUT RESTORING YOUR SMILE
We would like to help people with major tooth loss enjoy a complete smile again using same-day dental implant dentures. If you're ready to schedule a visit with our team, contact our Sunny Smiles location on N Zaragoza Rd in El Paso, TX at 915-849-9000.