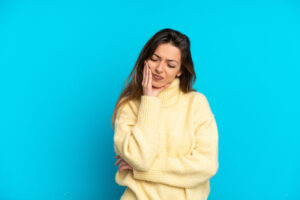 Jaw pain is something that can turn into a daily nuisance. When untreated issues with poor joint alignment and movement affect you, pain can be felt when you try to bite and chew, and may even affect your ability to laugh and speak. You can also experience headaches that are triggered by this problem as well as difficulties with jaw grinding and clenching. Sunny Smiles is prepared to help patients who think persistent jaw troubles, a condition known as TMJ disorder, affects them. After a review to confirm that this is the case, we can work with you to alleviate discomfort and help you improve your quality of life!
Living With Jaw Pain Can Lower Your Quality Of Life
The quality of life issues that you experience because of TMJ disorder can be tough for you to ignore. The problems you have with your issue include aches and pains in your face and jaw, the onset of teeth grinding troubles, headaches, and even neck and shoulder pain. Teeth grinding is a particularly concerning issue, as it can lead to the erosion and damage of your enamel! The sooner that you say something about these different problems and find out if they are connected to TMJ disorder, the sooner you can start treatment.
Determining If TMJ Therapy Is Needed
If we find that you need help correcting problems with your jaw, we can take care of you and provide a personalized approach to relief from the issue. That can take the form of appliance therapy, which means that we provide a custom guard that helps to correct the alignment and movement of the jaw. Through this support, we can help you relieve the tension by correcting the imbalance that is causing tension in your joints and muscles.
Poor Dental Health Can Cause Unwelcome Changes In Your Bite Function
If you have poor oral health, you can have problems with teeth that are not capable of applying bite support. If this is contributing to your TMJ disorder, we can help! Through the appropriate restorative dental work, we can ensure that your teeth are defended with custom crowns that offer the required bite support. This can be provided by a restoration that actually imitates your healthy enamel while also providing the functional support that you require.
Talk To Sunny Smiles About The Benefits Of TMJ Therapy
By beginning TMJ therapy for your ongoing jaw aches and pains, you can improve your quality of life and protect yourself against potentially destructive teeth grinding. If you think you might require this service, or if there is any other form of care that we can recommend, please contact Sunny Smiles on Dyer St in El Paso, TX by calling 915-859-7000.