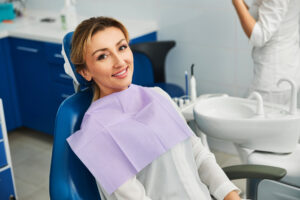 There are different ways to approach dental care for people with different needs. Sometimes, that means responding to the needs of someone who has several oral health issues versus helping someone maintain a problem-free smile. It can also means adjusting in-office care to meet the needs of patients who see us for pediatric oral health care versus adults who come to us for support. Sunny Smiles offers all-ages dentistry, which means we can meet with everyone in your family to provide smile care! For your kids, we can provide encouragement and guidance while helping teach the importance of good oral hygiene at home. For you, we can provide continued preventive oral health support as well as timely services for any problems that might impact your well-being.
Can One Dental Practice Help Everyone In Your Family?
Having a single dental office that is able to support everyone in your household makes smile care easier to arrange. You can book appointments for your family at the same time and same location, which can help coordinate services and reduce the number of trips that you have to take. It can also be good for your kids to see how comfortable you are at the same dentist's office they visit. This can establish that you feel at ease with treatment, so they should, too. Our practice is here to help patients of all ages, which means we can provide these benefits for El Paso area families!
Ensuring Your Smile Care Needs Are Being Met
You should make sure that you are booking smile care for more than just your kids. Adults benefit from sustained care in the form of regular dental exams and cleanings. Without these visits, people have less protection against tartar buildup and run a greater risk for problems with tooth decay or gum disease going untreated.
Finding A Dentist Who Can Help Your Kids Grow Up With Healthy Smiles
Your kids can be well-served at our practice, as we are committed to pediatric dental health care from an early age. Our youngest patients benefit from a safe introduction to oral health appointments that can focus on visual examinations. When they are old enough, we can transition to appointments that include dental cleanings and guidance to help them prioritize oral health care at home.
Talk To Sunny Smiles About Booking Dental Care For Your Family
We are proud to deliver important dental care to families in and around the El Paso area. Booking appointments for your household can ensure that you and your kids are enjoying the kind of personalized care that provides sustained support. If you would like to find out more about how we can help you, contact our Sunny Smiles location on N Zaragoza Rd in El Paso, TX at 915-849-9000.