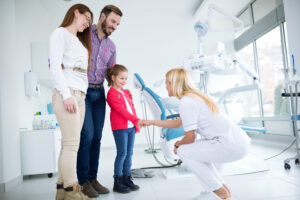 Is everyone in your household enjoying the kind of smile care that they need to remain safe from oral health threats? For adults, regular dental visits provide important updates as well as cleanings that lower risks for cavities and gum disease. Children enjoy consistent preventive care in the office as well as guidance through the years that can help them develop good habits to practice on their own. For families in and around the El Paso, TX area, Sunny Smiles can provide important general dental care for all ages. This means that your family's dental health needs can be covered at one convenient location, making it easier for you to stay on top of everyone's smile care needs!
Can One Practice Really Meet The Oral Health Needs Of Everyone In Your Family?
Because kids and adults have different needs from smile care, you may assume that you need to find a practice that exclusively provides pediatric care for your little ones. What you should know is that all ages dental health care is available at our office, so you can book all of your visits through us! For adults, we can provide the kind of consistent support that leads to a better defense against decay, gum disease, and other threats. We can also provide information on beneficial cosmetic dental services. Kids can receive different kinds of care through the years. From their earliest visits, we can update you on the development of their oral structures, help introduce them to smile care, and offer guidance along with in-office services.
Scheduling Important Oral Health Services For Your Kids
Starting with their introduction to smile care at their first appointment, our dental office and team can make your kids feel safe and secure in the dentist's chair. Early visits help them feel at ease with treatment; when they are old enough, we can provide preventive services that benefit patients of all ages. For additional support, we can make sure that a portion of pediatric dental visits covers the need for healthy teeth and instructions on smile care at home, which will help them form and keep good habits.
Making Sure Your Own Smile Care Needs Are Met
Remember that you need to think about your own smile care needs as well as your kids', as the effort you put into maintaining your oral health will help you in many ways. Preventive dental visits make future problems less likely, and they can lead to timely treatment so that issues with dental decay and gum disease do not grow into more serious matters that threaten your general health.
Talk To Sunny Smiles About Managing Your Family's Smile Care Needs
To find out more about how our practice can meet your family's oral health needs, contact our Sunny Smiles location on N Zaragoza Rd in El Paso, TX today at 915-849-9000.