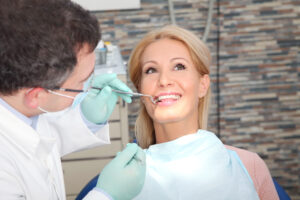 Oral health problems can be effectively prevented with good daily behaviors. Brushing, flossing, and keeping up with a smart and low-sugar diet will reduce your risks for problems. With that said, you should depend on more than just these behaviors—you should also stick with consistent preventive dental appointments! Part of the care you enjoy during general appointments at Sunny Smiles comes in the form of professional teeth cleanings. Your hygienist can take care of tartar deposits as well as plaque buildup, which will make you less likely to have future problems. Because these visits also provide feedback on your current health, they can lead to the timely treatment of active troubles.
Why You Should Rely On More Than Just Daily Care To Protect Your Smile
Good habits on a daily basis will help you avoid problems with your teeth and gums. Brushing and flossing certainly help you defend yourself against problems with bacteria and the buildup of food particles. To further protect yourself, take care to limit how much sugar you consume on a daily basis. You should have confidence in the effort you put into maintaining a smile that is attractive and healthy. However, you should not think of think of your routine as something that can take the place of visits to your dentist for general oral health exams.
How Regular Dental Cleanings Protect Your Teeth And Gums
Regular dental cleanings are important for both keeping you informed about the state of your oral health and for keeping you protected against new problems. The protection you enjoy during your regular dental cleanings will help you keep tartar and plaque from gathering and making you vulnerable to gum disease and dental decay. You can fight plaque with your oral hygiene efforts, but tartar deposits require attention from your hygienist. You may not realize how these materials have built up, particularly in spaces that are harder to see and reach. On top of the care itself, these appointments provide feedback that can update you on how effective your routine has been. We should note that when you have problems with gingivitis, we can provide a deeper cleaning that will remove bacteria from teeth roots.
Additional Reasons To Book Routine Checkups
Your dentist can identify problems with your oral health even when you have no active concerns. A recently formed cavity or the recent onset of gum disease can be found in the course of a routine visit, which can lead to timely care for your smile before there are complications. Early restorative dental work for cavities will preserve more of your tooth structure and lead to more conservative care with dental fillings.
Talk To Sunny Smiles About Booking Your Next Dental Cleaning
To book your next dental cleaning, contact Sunny Smiles on Dyer St in El Paso, TX by calling 915-859-7000.