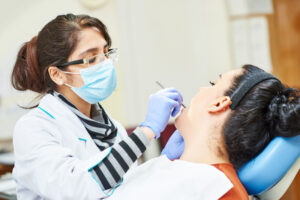 Do you have your next general oral health appointment set? Are you staying current with these visits? One reason why people sometimes let their appointments slip from their overall smile care routine is because they do recognize their importance in maintaining their oral health. Without these regular checkups, you miss out on important reviews as well as dental cleanings that do more for your smile than you can by brushing and flossing. Sunny Smiles is here to help El Paso families keep up with the health of their smiles. In addition to providing routine dental services, we can field questions and concerns about your well-being, and we can offer information on the benefits of cosmetic services!
How Often Should I Make Appointments With My Dentist?
Unless you receive direct advice from your dentist to do something different, you should plan to book a dental exam every six months. On a semiannual basis, patients enjoy thorough reviews to alert them to problems with their well-being along with cleanings that fight harmful tartar buildup. If you go longer without care, you can miss out on important protection, and you lose out on opportunities for early warnings regarding your oral health.
What Do Dental Exams Do For Me When My Smile Seems Healthy?
People of all ages should take their dental health seriously. With that said, many feel comfortable with the efforts they put in at home to care for their teeth. What do you gain from a regular dental exam when you have no worries about your smile? There are actually times when patients can discover that there are problems even in these periods where they are happy with their health and appearance. For example, you could have a cavity that is not yet severe enough to cause you discomfort, or you may have overlooked the early warning signs of gingivitis. We also look out for problems that can surprise you, such as problems with your jaw alignment and movement.
How Do I Lower My Risk For The Problems A General Exam Can Reveal?
Simply put, when you take consistent care of your smile at home, you can expect to receive more positive feedback during exams. You can effectively protect yourself by thoroughly brushing and flossing your teeth, and you can make avoiding problems even easier when you make the right diet decisions. You should also know that your appointments themselves help you avoid future difficulties thanks to the cleanings that occur regularly.
Schedule General Dental Care At Sunny Smiles!
General dental visits can provide important support for your long-term oral health. If you are due for another appointment, or if you have questions about your smile's well-being, please contact Sunny Smiles on Dyer St in El Paso, TX by calling 915-859-7000.