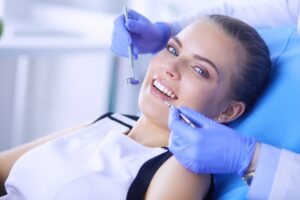 Is there something you can do to make sure your smile is going to remain healthy over time? A good oral hygiene routine at home is important, but it should not be all you rely on to protect your teeth and gums. General dental care provided during your routine visits can help you avoid trouble that can require more involved care. Sunny Smiles offers dental care to El Paso families that covers general services as well as restorative and cosmetic procedures. General dentistry provides careful reviews as well as cleanings that make it easier for you to stay safe from cavities, gum disease, and other concerns that can grow more serious without prompt care.
Are You Really Doing Enough To Keep Your Smile Healthy?
If your commitment to oral hygiene only covers daily practices, but not general dental exams, you can lose out on important support for your smile. There are several reasons for this. One important one is that without general checkups, you lose out on timely feedback about the condition of your teeth and gums. Another issue is that you lose out on the dental cleanings that fight tartar buildup and provide information on your smile care routine. Tartar deposits are troubling because they resist brushing ad flossing efforts, which means they continue to make you vulnerable to more serious issues.
Committing To Regular Dental Exams And Cleanings
A dental checkup every six months will provide consistent support and feedback so that you can maintain good oral health and avoid more serious issues with your dental health. You may not realize when you have an issue with gingivitis or dental decay. When your dentist identifies a problem before you realize something is wrong, you can receive treatment before there are complications that make a bigger impact on your health and comfort. Your hygienist will help you avoid future problems by cleaning your teeth thoroughly. Removing plaque and tartar will help, and so will the guidance to help you recognize when your smile care routine is not giving you the full protection you require.
We Also Provide Consistent Care For Kids!
Dental exams benefit kids as well as adults. Because Sunny Smiles offers pediatric dental care as well as services for adults, we can make it easier to arrange care for your entire family! Dental visits should start at an early age; by beginning them at the right time, you can make sure your littles ones have support as their teeth and oral structures are still developing. In addition to helping them by providing in-office care, we can instruct them so that they develop good oral hygiene habits!
Talk To Sunny Smiles About General Dentistry And Your Oral Health
For more information about general dentistry and your oral health, contact Sunny Smiles on Dyer St in El Paso, TX by calling 915-859-7000.