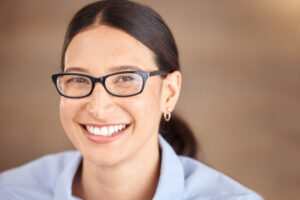 How excited are you to show off your current smile? If you have problems with the way you look, it can be tough to project the confidence you want in social and professional situations. Fortunately, there are solutions to the different problems people have with how their teeth look. Sunny Smiles provides different cosmetic services for our patients, which means you can leave treatment with your specific concerns addressed. You can be pleasantly surprised to learn that you have the ability to take on several smile flaws at one time with the right treatment! Even if you require restorative treatment to address a concern over the way you look, we can offer the right improvements with dental crowns that effectively imitate healthy enamel.
See Significant Improvements In A Short Time
Many people who have an interest in cosmetic dentistry can see their desired results in as little as one procedure. What this means is that you can see your desired results in a short time, so your smile can be ready to show off before an important upcoming event. The right treatment can actually take on more than one problem at a time, so you can find that care is convenient even if you have several improvements that you desire from care.
Different Treatment Options Available To You
We can help you understand the different treatment options that are available based on your needs and goals for treatment. For enamel stains, we can provide a take-home teeth whitening kit that you use at your convenience. If you have problems with bulky gums, or tissues that look awkward and uneven, we can recommend a gum contouring treatment. Both porcelain veneers and dental bonding and contouring treatment can help with broader concerns about teeth that are misshapen, damaged, discolored due to internal factors, or flawed in other ways. With veneers, we can provide these improvements with thin but remarkably durable porcelain restorations that cover the front surfaces of teeth. Dental bonding and contouring services work together to produce results with a more conservative approach, one that can modify tooth shape and size without the need for permanent restorations.
Why Teeth Are Sometimes Restored With Crowns
In the event that you have teeth that are in poor health due to damage and wear and tear, or if you have teeth that are small enough to compromise your bite function, we can recommend that you receive dental crowns as part of a plan to restore your smile. Our options for care with crowns will include restorations made with lifelike materials like porcelain, so you can see your desired smile improvements.
Talk To Sunny Smiles About Cosmetic Dentistry!
To learn more about the benefits of the right approach to cosmetic dentistry, contact Sunny Smiles on Dyer St in El Paso, TX by calling 915-859-7000.