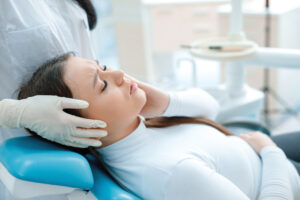 The role your dentist plays in protecting your smile is important even when you have no active cavities to worry about. Routine dental checkups provide feedback about the state of your oral health, and they provide opportunities to have tartar and plaque removed from your teeth. You can rely on Sunny Smiles to consistently protect your smile during preventive services. You should know that we are also prepared to help you when there are problems present and restorative work needs to be provided. In these circumstances, we can offer treatment that preserves your appearance and also keeps teeth safe after being treated!
What Can You Really Expect Treatment For Your Cavity To Do For Your Smile?
If you go in to the dentist's office for cavity treatment, you may have questions about how that care will ultimately affect your smile. The priority for care is to protect a tooth against the damage that has occurred. With that said, our practice recognizes that the cosmetic impact of treatment can be a concern, particularly when a cavity has to be addressed in a more visible area. You can be relieved to know that we provide dental fillings and dental crowns that can closely resemble healthy enamel. In doing this, we can offer results that make you comfortable with your appearance as well as your health!
Arranging Restorative Treatment For Decay Or An Injury
Restorative dental work takes care of problems with dental decay as well as with injuries that are too serious for cosmetic dental work. For smaller cavities, we can use dental fillings, which only cover the area where damage occurred. The fillings we provide are composite resin, a material that can both imitate and bond with healthy enamel. For larger cavities, we can provide dental crowns that cover teeth and offer meaningful bite support. There are different materials that are used to make crowns, and lifelike restorations can be provided.
Lowering Your Risk For Future Problems
If you want to keep your risk for problems requiring restorative dental work low, you should prioritize regular dental checkups. At these appointments, we are able to provide consistent reviews and feedback along with cleanings that remove potentially harmful bacteria. Unless you are told to do something different, plan to see your dentist every six months for your reviews.
Talk To Sunny Smiles When You Need To Schedule Restorative Dentistry
Through restorative dentistry, we can take on concerning problems about your appearance and oral health with fillings and crowns that provide functional support as well as cosmetic benefits. If you would like to find out more about how we can take care of you and your smile, contact Sunny Smiles on Dyer St in El Paso, TX by calling 915-859-7000.