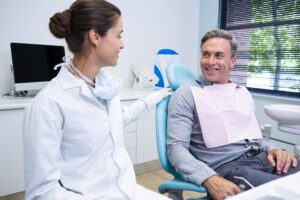 The consistency of your dental visits is important. When you fall out of the habit of booking these appointments on a regular basis, you make yourself vulnerable to problems that threaten your health as well as your appearance. With that said, we understand that it can be difficult for some people to find the time in their schedule for an appointment. If this is the case for you, know that Sunny Smiles provides dental office hours on Saturdays. By doing so, we can make it easier for people who struggle to find time for care during the week to book their next appointment. That means they stay on top of their oral hygiene needs and have timely support if a problem arises and affects their health.
Is Saturday Really An Option When I Need To Book An Appointment?
If you have a hard time finding time for appointments during the week, it can feel as though you will have to indefinitely postpone your next dental visit. Unfortunately, cavities will not postpone themselves when you do this! A delay in treatment can mean letting decay both form and grow severe, which means you can experience more serious threats to your health. We welcome patients who need to book visits on the weekends. We also make care more convenient by offering emergency dental services, which can certainly be beneficial if you find yourself in need of attention for a smile problem on short notice.
The Importance Of Consistently Booking Smile Care
Consistently booking dental exams provides you with regular updates about your smile, which can lead to the early detection and treatment of cavities and gum disease. These are issues that will grow progressively worse without timely care. Having access to timely support means you minimize harm to your tooth structure from decay, and it means gingivitis is less likely to turn into a more serious threat to your well-being. Your regular visits also provide you with regular cleanings, which means you are not as likely to develop either issue.
We Offer Services To Patients Of All Ages
Our office is here to help El Paso families. We can actually welcome parents and their children, which can make everyone's services easier to book and attend. Through the years, we can give your little one guidance on at-home smile care and provide you with regular updates about their health and development. By doing this and offering you feedback about your own smile, we can take care of all of your worries about your family's dental well-being!
Talk To Sunny Smiles About Booking A Dental Visit On A Saturday!
Dental visits should be booked and attended consistently. If you fall behind on these appointments, you become more vulnerable to tartar buildup, tooth decay, and other threats that can create trouble for your smile and oral health. If you would like to book a visit for yourself or a family member, reach out to our Sunny Smiles location on N Zaragoza Rd in El Paso, TX today at 915-849-9000.