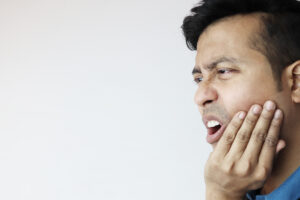 When you experience trouble with jaw pain and stiffness on a daily basis, along with recurring troubles with teeth grinding, headaches, and other discomforts, it can point to an issue with TMJ disorder. Different issues can cause you to experience problems with poor joint alignment and movement. By meeting with Sunny Smiles to look into treatment, you can find that the right resolution can improve your daily life by alleviating tension and improvement joint alignment. By addressing this problem, and by looking into related issues with teeth grinding, we can improve your quality of life and protect you against oral health issues.
Are You Experiencing Daily Aches And Pains?
When you have daily problems with jaw pain and stiffness; discomfort in your face, neck, and shoulders; and more frequent headaches, it can point to difficulties with joint alignment and movement. TMJ disorder occurs when you have issues with alignment that put strain on the muscles and affect the trigeminal nerve, which affects sensations in the face, head, and neck. You can find that the problem is manageable with appliance therapy, something that your dentist can assist you with.
What To Expect When Beginning TMJ Therapy
By beginning TMJ therapy, you can ease tension and correct problems with uneven, painful, and limited jaw movements. We can provide a custom guard that you use to hold your lower jaw in a more comfortable position, which can encourage better motion and more comfort. Appliance therapy can also help when your jaw troubles cause you to grind your teeth at night.
Is There An Issue With Your Bite Because Of An Unhealthy Tooth?
There are different reasons why you experience problems with TMJ disorder. One concern is that you have problems with an unhealthy tooth that will have to be treated. Taking care of this issue can provide more than just better dental function. Without care, a tooth affected by decay or physical trauma can have worsening problems over time that affect your well-being. Even if you require a more involved restorative procedure to take care of this issue, we can restore your bite function while also caring for your appearance. With a custom crown, we can supply a restoration that closely imitates your enamel, so you will not have to worry even if you need work done on a tooth that is in a conspicuous place.
Sunny Smiles Can Provide TMJ Therapy To Provide Pain Relief
TMJ therapy can be an important form of pain relief, one that can reduce jaw pain and stiffness as well as headaches and other concerns. Whether you wish to discuss this problem or another oral health issue, we can help! For more information, reach out to Sunny Smiles on Dyer St in El Paso, TX by calling 915-859-7000.