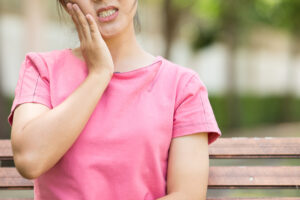 While brief issues with discomfort can arise at times, you can be understandably worried when a toothache develops and does not subside. Persistent discomfort and severe pain are warnings that you need to look into treatment to manage your oral health. Letting the problem remain unmanaged can put you at risk for complications that can be trouble for your smile and your overall health. Sunny Smiles is prepared to help you deal with your discomfort. At an appointment, we can evaluate your tooth to determine what needs to occur to stop whatever is responsible for your toothache. When necessary, we can even welcome patients on short notice to undergo emergency dental work!
A Toothache Can Be A Warning Sign Of Poor Oral Health
You may be less than surprised to learn that a toothache can be a symptom of poor oral health. However, you may not realize just how serious the problem is when it is not treated. The discomfort you feel can be a result of an infection within the tooth structure, something that can develop due to an advanced cavity or injury. Letting this kind of trouble go untreated can have real consequences. As time passes, bacteria within the tooth can make their way through your roots to create new problems. You can wait so long to do something about the problem that you let an infection spread to new areas, and you can leave no option other than the extraction of your tooth available to your dentist.
Arranging Treatment To Resolve Problems Causing You Dental Discomfort
When you arrive at our practice for treatment, we can evaluate you to evaluate your oral health and what treatment should occur. Root canal treatments address problems within your pulp, the central chamber of the tooth. After performing this service, we can provide lasting support in the form of a custom-made dental crown. We should note that at regular dental exams, cavities can be found and treated before these kinds of complications must be addressed.
How Will My Tooth Look After Restorative Work Takes Place?
While any oral health issue is a concern, it can be especially troubling when a problem affects a front tooth that people can easily see. Problems in such a conspicuous area can make you fret over the cosmetic impact of treatment. Fortunately, there are dental crowns we provide that can imitate healthy enamel and preserve your appearance!
Talk To Sunny Smiles About Treatment For A Toothache
Through treatment for your aching tooth, we can stop a worsening problem so that you no longer have to fret over discomfort or potential oral health issues. For more information on how we can support you, contact our Sunny Smiles location on N Zaragoza Rd in El Paso, TX today at 915-849-9000.