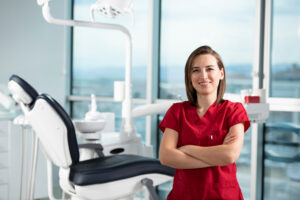 Is your smile vulnerable to problems with dental decay and gum disease? We manage our risks for these and other problems through good oral hygiene habits. That means putting in time to brush and floss each day, but it also means taking advantage of the care offered at regular dental exams. At Sunny Smiles, we provide services that keep El Paso area residents updated about the state of their dental health. Through the dental cleanings that these visits include, we are able to fight the buildup of tartar and plaque that can occur over time. This lowers your risk for cavities as well as gingivitis. It can also help you preserve an appearance that you are proud to show off, as we can fight visible tartar buildup that can resist brushing and flossing.
Do You Have Enough Protection Against Oral Health Problems?
You can do a good job protecting your smile whenever you take the time to brush and floss. Daily efforts to remove bacteria and food debris will help you limit your risks for cavities, teeth stains, and gum disease. What you should be aware of is what limitations there are on these daily actions. While you can stop tartar from forming, you will be unable to remove deposits that do develop over time. You can also have a difficult time fully evaluating your smile and confirming that your efforts to reach those harder to access areas are successful. Fortunately, routine dental cleanings that take place at your regular dental exams will provide support that you cannot give yourself.
Scheduling Your Next Cleaning And Exam
Typically, patients should go in for dental checkups on a semiannual basis. At these appointments, you receive the kind of preventive care that will help you remain safe against the different issues that can affect your smile. Cleanings remove the buildup of bacteria that can make problems for you over time. Through your regular reviews, you can receive updates and timely warnings about problems that may have developed since the last time you were in the dentist's chair. This can lead to periodontal care through a more involved cleaning that removes bacteria from teeth roots, or it can involve treatments to address dental decay. Another matter that we can identify and tend to is TMJ disorder, which results when you have issues with poor jaw alignment and movement.
Talk To Sunny Smiles About Scheduling Your Next Dental Cleaning!
Through regular dental cleanings and reviews, you remain informed about the state of your smile and enjoy protection against threats posed by tartar and plaque accumulation. If you would like to find out more about how we can take care of you, contact Sunny Smiles on Dyer St in El Paso, TX by calling 915-859-7000.