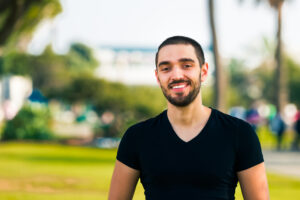 Is cosmetic dentistry something worth considering? For people who have healthy smiles but issues with the way they look, it can certainly be appealing to explore different treatment options. When you do so, you can find that there are solutions to problems that lead to results in a short time, even when you have several changes that you want to make. Sunny Smiles can work with you to ensure that you make an informed choice about how to change your appearance for the better. We can discuss what your goals are for care, and we can follow this with a determination on what kind of approach can give you your desired outcome while making your experience a positive one.
Using Cosmetic Work To Take On Dental Discoloration
Dental discoloration may be a commonly cited problem, but your issue may not call for teeth whitening treatment. This is because the issue is sometimes caused by problems within the tooth structure and not stains. Your smile can instead benefit from dental bonding work or treatment with porcelain veneers. With that said, stains are commonly an issue to be dealt with, one that we can address with a whitening procedure that can give you dazzling improvements!
Taking On Problems With Damage Or Worn Teeth
Whether you experience an injury that changes a tooth's appearance or notice that gradual wear and tear are starting to impact how you look, cosmetic work can be beneficial. You can discuss your options for cosmetic dental work, which can give teeth a more attractive and youthful appearance with only minimal changes to your enamel. When younger patients show more pronounced wear and tear, it can be a sign of bruxism, or teeth grinding, something that we are prepared to identify and treat.
Addressing Issues With Teeth That Are Misshapen Or The Wrong Size
A naturally occurring problem with any tooth that fails to fit in with the rest of your smile can be embarrassing. When you have teeth that are not the wrong shape or size, or any that look awkward because they are out of position, we can help. Cosmetic dentistry reshapes and resizes teeth when appropriate. We can do this through tooth bonding and contouring work, which can actually make significant changes while avoiding the use of permanent restorations.
Talk To Sunny Smiles About Cosmetic Dentistry And Its Benefits
Through the right cosmetic dental work, we can help you show off significant smile improvements! Whether you have one issue that holds you back from your best smile or several, there are different ways in which we can help you make lasting improvements to how you look. For more information, please contact Sunny Smiles on Dyer St in El Paso, TX by calling 915-859-7000.