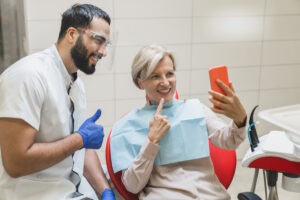 Is there anything your dentist can do that will save a vulnerable tooth and preserve your smile? When a severe cavity or physical injury threatens your oral health, Sunny Smiles can help by offering timely support that includes the placement of a lifelike restoration. A custom-made dental crown can cover your tooth, keeping it safe from harm and even supporting your bite function. When we need to take care of teeth that are noticeable whenever you smile and speak, we do have the option of placing restorations made with materials that imitate your healthy enamel, which means we can offer functional benefits as well as cosmetic value from your procedure.
Crowns Provide Long-Term Protection For Vulnerable Teeth
Not all restorative dental procedures require dental crowns. With that said, any time this kind of restoration is recommended, you should take the matter seriously. Advanced cavities and physical trauma can leave our smiles in vulnerable condition. Without proper protection, your tooth can experience further harm, and it can be lost due to poor health and a weakened condition. Crowns enable us to save teeth while still preserving patients' full smiles. They offer full coverage that allows them to absorb bite pressure and keep visible problems from view.
Receiving Your Custom Dental Crown
The dental crown that you receive will be customized just for your care. We take care to do this because it can ensure that your tooth is effectively cared for, and to make sure that your smile is preserved. While back teeth can be protected with metal restorations that offer superior functional support, we are able to provide valuable care with lifelike restorations whenever patients need work on teeth that are more conspicuous. With a crown made from porcelain or zirconia, we can offer functional and cosmetic value!
Preventive Care Can Help You Avoid Future Problems With Your Oral Health
It can be reassuring to know that a dependable dental crown is available to you. With that said, it is also important that you take care of your smile so that this kind of work is not necessary! Remember that any problem that requires restorative treatment does irreversible harm to your tooth structure. To avoid this, keep up with regular brushing and flossing, be mindful of how your sugar consumption affects your health, and make sure you schedule dental exams and cleanings consistently.
Talk To Sunny Smiles About Treatment With A Custom Crown
Through the placement of custom, lifelike dental crowns, our practice can help patients who need significant support for teeth in vulnerable condition. If you have questions about your care, or if something is wrong and you require treatment, contact our Sunny Smiles location on N Zaragoza Rd today at 915-849-9000.