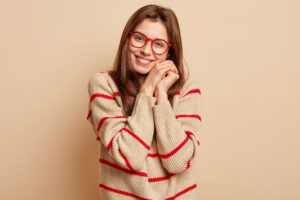 The need for restorative dental work does not have to mean the end of your smile as you knew it. While cavities and dental injuries cause permanent harm, the treatments we provide at Sunny Smiles can help them maintain their look and preserve your appearance. This is the case with both dental fillings and dental crowns, which means even more advanced services can still maintain the way you look. You should keep in mind that even if you do have access to lifelike care, your tooth trouble causes permanent structural harm, something you certainly should try to avoid. Fortunately, we provide preventive care in addition to restorative treatments, which means we can protect you against problems that can put your oral health in jeopardy.
Does The Need For Restorative Treatment Mean The End Of Your Confident Smile?
It can be upsetting to learn that you need restorative dental work. After all, this kind of care responds to irreversible harm to your tooth structure from dental decay and physical trauma. Learning that you need treatment on one of your front teeth can be especially upsetting, as the restoration you receive will be more difficult to keep hidden. Fortunately, treatment does not have to mean the end of your natural and confident smile. With the right filling or crown, we can see to it that your smile is preserved even as we take care to provide long-term care for the tooth being treated.
Placing A Lifelike Dental Crown Or Dental Filling
Both dental fillings and dental crowns are able to match the appearance of healthy enamel. What this means is that when patients come to us with different oral health concerns requiring treatment, we can provide that care while still preserving their smiles. Fillings are a conservative treatment option that lets you retain healthy surrounding structure. With a dental crown, we surround a surrounding tooth in a vulnerable condition. Crowns require more changes to your tooth structure, but when you have this option, a more significant issue can be properly addressed.
We Can Preserve Your Smile Even When You Require Advanced Care
There are times when restorative dental work calls for care within the tooth structure. By providing a root canal before placing a dental crown, we can keep an infection from spreading and stop active discomfort. Once this work is done, we can keep your pulp sealed and prepare you tor the placement of your custom crown.
Talk To Sunny Smiles About Smile-Friendly Restorative Treatment
Smile-friendly restorative treatments provide lasting value for patients who experience oral health issues. To learn more about how we can take care of you when something is wrong with your tooth, reach out to Sunny Smiles on Dyer St in El Paso, TX by calling 915-859-7000.