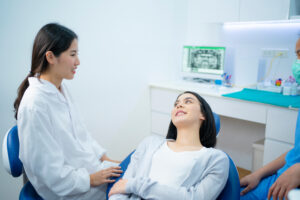 What should you do if you think you need to arrange treatment for a possible cavity or tooth injury? For people in the El Paso area seeking restorative dentistry, the right care is available. Sunny Smiles can provide the necessary services to resolve problems with your smile without changing its appearance in unwelcome ways. We can also provide regular updates about your oral health during routine visits, which provide important preventive services that make you less likely to run into trouble that calls for more involved treatment. It should be noted that timing matters when it comes to your smile care; when a tooth is in poor condition, it can deteriorate over time until more involved services are required.
When Is It Necessary To Arrange Restorative Dental Work?
When a cavity forms, or when a tooth is physically injured, there are several reasons to worry. Not only can you find yourself with permanent damage, the problem can actually grow more serious as time passes! Restorative dentistry takes on these problems with your dental health. In order to completely address them, we will provide care by removing unhealthy and damaged tissues and restoring a tooth with a permanent dental filling or crown.
Planning Treatment To Resolve Problems With Decay Or Physical Damage
A review of your tooth will tell us what kind of restorative treatment you require. Cavities that are identified during routine checkups are often still small enough to be addressed with conservative dental fillings. These restorations are able to cover the affected area without modifying healthy surrounding tissues, and they can both bond to and blend in with your enamel. If you need more functional support, we can provide it with a dental crown that will surround your tooth. There are different materials that are used to help with this. Your options include restorations that both protect and imitate a tooth.
Affected By An Advanced Cavity? We Can Help!
A severe cavity can make root canal treatment necessary. This more involved service tends to problems within your tooth structure so that an infection is stopped before it can spread further. By performing this procedure, we can save a vulnerable tooth, and we can also put a stop to persistent discomfort that you feel due to your cavity.
Schedule Restorative Work In The El Paso Area By Contacting Sunny Smiles!
There are different ways in which we can respond to problems with a patient's oral health. Our restorative services can provide lasting protection as well as cosmetic benefits that preserve your appearance, so you will not have to worry that treatment is going to hurt your smile. If you would like to learn more about this or any other service that we offer, reach out to our Sunny Smiles location on N Zaragoza Rd today at 915-849-9000.