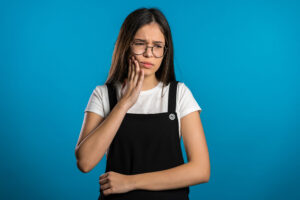 When changes to your jaw alignment and movement occur, it can become difficult for you to ignore the discomfort you feel as a result. Worsening problems with aches and pains in your face, jaw, and neck, along with headaches and issues with teeth grinding, can worsen your quality of life. You can discuss these matters with your dentist at Sunny Smiles, which will help you understand how treatment can help. In addition to providing help by correcting your alignment and movement, we can look out for oral health issues that are causing you to have difficulty maintaining a proper bite alignment.
The Signs Of TMJ Therapy You Should Look Out For
Several issues with discomfort can actually be traced to a problem with jaw tension and poor alignment. Your discomfort in your jaw can be less surprising. You can also experience stiff or limited movement when you bite and chew, problems with neck and shoulder pain, headaches, and a tendency to grind or clench your teeth. Clenching while you sleep can do serious harm to your enamel over time, leading to cosmetic concerns and even problems that require restorative dental work.
We Can Help Correct Problems With Your Jaw
Through treatment for TMJ disorder, we can alleviate the discomfort that you feel in your jaw as well as any other areas impacted by your alignment difficulties. The right approach will be determined so that we can provide a personalized approach to care. For many, assistance with correcting poor joint alignment will be beneficial. We can offer this support with a custom oral appliance that you wear at night to modify the way you position your jaw while at rest. When appropriate, we can also determine if dental work should take place to restore teeth that are not providing the right bite support.
When Poor Oral Health Changes Your Bite Function
Are you having trouble biting and chewing in a natural and comfortable manner because of poor dental health? If so, you may need treatment as part of your TMJ therapy. When necessary, we can place dental crowns on teeth that need the additional protection and bite strength. For teeth that are visible when you smile and speak, lifelike appliances are available.
Talk To Sunny Smiles About Beginning TMJ Therapy!
When you regularly struggle with jaw pain along with facial discomfort, neck and shoulder pain, headaches, and/or teeth grinding difficulties, you should look into TMJ therapy. By telling Sunny Smiles about your concerns, you can learn how treatment can provide welcome improvements in your daily life by addressing the causes of discomfort. If you are ready to discuss this matter further, please reach out to Sunny Smiles on Dyer St in El Paso, TX by calling 915-859-7000.