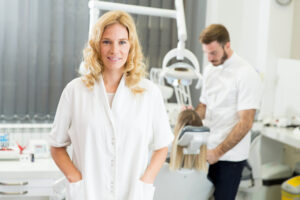 The regular appointments you schedule with your dentist offer an important line of defense against dental decay. What they also do is help you avoid potential problems with your periodontal health. Gum disease can pose a bigger threat than you realize. In time, an infection can become so serious that you run the risk of tooth loss as well as complications that hurt your general health. At Sunny Smiles, patients are regularly updated on the state of their teeth as well as their gums. These appointments are important for helping you maintain your overall smile health, as they provide early warnings as well as cleanings that help you remain in good health.
General Dental Visits Help You Avoid Issues With Gingivitis And Advanced Gum Disease
At an interval of once every six months, you should see your dentist for general care. These appointments are beneficial for many reasons. Beyond providing teeth cleanings and regular updates about dental decay, they also supply you with feedback about the state of your gums. For the long-term health of your smile, you should prioritize caring for these tissues. When infections form, they can cause bleeding, swelling and discoloration of tissues, and bad breath. When the problem becomes more serious, your risks include general health complications and the loss of teeth due to tissue damage!
Regular Visits Provide Feedback About Teeth And Gums
Every time your smile is evaluated, your dentist can let you know if tooth decay, gum disease, or other problems like TMJ disorder and bruxism need to be addressed. Timely updates about these issues can make the services you need more conservative. For example, a small cavity caught in time can be addressed with a dental filling and make root canal treatment unnecessary. Problems with gingivitis, the first stage of a periodontal infection, can be addressed through an advanced cleaning. When the right care is not received in time, these are issues that can worsen and cause more significant problems for your appearance and health.
We Can Provide A Cleaning That Removes Bacteria Under The Gumline
Your usual dental cleaning will remove bacteria from your enamel, including bacteria contained in tough tartar deposits you cannot remove on your own. For a patient affected by gingivitis, we can recommend something more involved. During a periodontal cleaning, we work on the removal of tartar that have gathered on the roots of teeth. When these harmful deposits are removed, it gives the tissues the opportunity to heal and return to their normal state.
Talk To Sunny Smiles About Treatments That Manage Your Dental And Periodontal Health!
Properly managing your periodontal health will help you avoid potentially serious problems with your appearance and well-being. If you would like to learn more, contact our Sunny Smiles location on N Zaragoza Rd today at 915-849-9000.