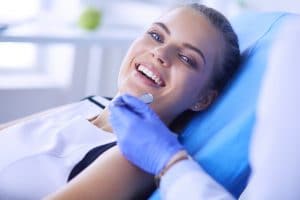 You should be concerned about cavities, but remember that dental decay is only one problem that can affect your oral health. You also need to worry about gum disease, which can hurt your health over time and also make you more likely to experience tooth loss. Good brushing and flossing habits will help you fight the bacteria that can cause gingivitis. While this is important, remember that you should also count on your dentist's support if you want to avoid periodontal problems. Sunny Smiles provides thorough oral health reviews that include close evaluations of your gums. If necessary, we can recommend a special cleaning to remove bacteria that have already built up below your gum line.
Why Gum Disease Should Concern You
What happens when gum disease forms and goes untreated? The first stage of infection is gingivitis. When you have gingivitis, you can experience problems with bleeding, tissue sensitivity and swelling, discoloration, and even the movement of your gum line. If the problem worsens, it can start to affect your general health by making other health conditions harder to manage, and by potentially raising your risk for heart disease. Advanced gum disease will also damage tissues that support teeth, which makes tooth loss a serious concern.
How Dental Visits Lead To Protection Against Gum Disease
At regular dental exams, your dentist checks on the condition of your teeth and gums to see if restorative dental work might be needed. To address cavities, we provide dental fillings and dental crowns, and when necessary we can even provide you with root canal therapy. However, if we observe symptoms of gingivitis, we can address the matter with an advanced cleaning that targets that bacteria that build up below your periodontal tissues. By removing these microbes, we give the tissues the chance to heal and recover from infection before complications occur.
Your Oral Hygiene Routine Can Keep You Safe From Periodontal Problems
A good daily routine will be important for preventing issues with decay and poor periodontal health. You fight periodontal problems by thoroughly cleaning the spaces where your teeth and gums meet. Flossing is an important part of this, as you can use the floss string to carefully clear away any bacteria that might be present.
Sunny Smiles Can Help You Avoid Difficulties With Gum Disease!
Sunny Smiles is here to help patients who have difficulties with gum disease! Your periodontal health is important for your long-term well-being, and for preserving your full smile. If you have questions about gingivitis, or concerns that it already affects you, we can help! If you want to learn more, please contact our El Paso, TX, dentists' office on N. Zaragoza Rd by calling 915-849-9000. In addition to preventive care, we also provide a variety of restorative and cosmetic services that can benefit you.