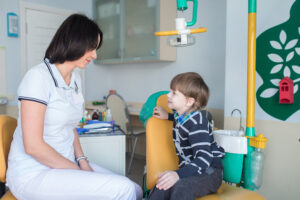 There are several reasons why you should prioritize finding the right dentist for your child. One reason is that when kids have access to oral health care that makes them feel at ease, they can feel more comfortable during future visits. This can make them less likely to push back against appointments, and it can make them more receptive to the importance of proper smile care! Patients of all ages are welcome at Sunny Smiles, and for our youngest visitors, we can prioritize an approach to treatment that offers a warm welcome as well as thorough, age-appropriate care. We are proud to support the oral health needs of families in and around El Paso. Because we see people in different age groups, we can help to make sure that parents and kids both receive the right kind of smile care with us!
Are You Having A Hard Time Finding The Right Dentist For Your Kids?
The experiences that young children have at the dentist's office can certainly be influential. When they are made to feel welcomed and put at ease in a new environment, subsequent trips to that location can be easier. With this in mind, we prioritize making our littlest visitors feel particularly welcomed and at ease in our office. In addition to doing this, we provide important early visual evaluations that let us know if there are any developmental issues that parents should know about. Over time, we can tailor your child's treatment to their needs as they age and grow, which means we can continue to be the right environment for them.
Planning Pediatric Dental Appointments
What will pediatric dental care involve? The answer to this question will depend on the age of the patient. At first, we can focus on visual examinations and introductions to smile care. When kids are old enough, we can begin cleanings and exams that are more in line with what adults will enjoy during their own dental checkups. Our services include treatments at times when kids have cavity issues. Minimal restorations that provide protection and preserve smiles are used to give kids better experiences with treatment!
Discussing Your Own Oral Health Needs And Concerns
There is value in routine oral health checkups for adults as well as kids. You should be consistent about setting up your own dental exams so that you can stay on top of your smile care needs. In addition to keeping your teeth and gums safe, doing so can help set a good example for your children and reinforce the importance of dental care!
Talk To Sunny Smiles About Children's Dentistry!
Through children's dentistry, we are able to take on potential smile threats for our littlest patients while we help them grow comfortable with future appointments. If you would like to find out more about our practice and services, please contact Sunny Smiles on Dyer St in El Paso, TX by calling 915-859-7000.