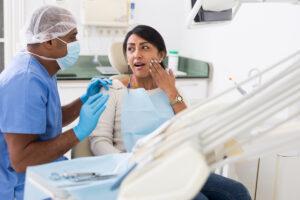 The longer you wait to say something to your dentist about a problem that bothers you, the more likely that oral health problem is to grow more serious. That can mean you need a more involved restorative procedure to address it, or it could even put you at increased risk for losing your tooth! Sunny Smiles is happy to meet with El Paso area residents who need help with smile care on short notice. At our dental offices, we can make sure that a patient with an urgent problem is properly accommodated, and from there we can provide treatment that both addresses their oral health issue and preserves the way they look.
We Can Take Care Of You When Dental Work Is Needed On Short Notice
Many patients who come in for treatment only have to arrange care when they are due for their next dental exam. These visits are important, and they can lead to further restorative dental work if we identify a problem during your review. With that said, we understand that there are times when a person just cannot wait until their next planned visit to discuss an active concern. You can come in on short notice to receive emergency dental work in a situation where you have to address an injury or alarming tooth discomfort!
What To Expect From Treatment
During your emergency dental appointment, we will closely evaluate your tooth to see what kind of procedure might be necessary. After a physical injury, you can benefit from cosmetic or restorative dental work. For discomfort without an obvious cause, it may be necessary for us to provide restorative services, including root canal treatment, to fully resolve the problem. As with treatment for dental decay, your care during a dental emergency can provide benefits for your smile as well as your oral health.
Can Regular Exams Make You Less Likely To Experience A Dental Emergency?
If you keep up with your regular dental exams and cleanings, you are less likely to experience the kinds of advanced oral health infections that require emergency services. By helping you preserve your strong and healthy enamel, we can also make sure you do not find yourself in need of general care because of an unhealthy tooth, or for the sake of restoring several unhealthy teeth.
Sunny Smiles Can Address Dental Emergencies In The El Paso Area
If you need dental work on short notice in the El Paso area, Sunny Smiles is ready to help! Our dental offices in the area are ready to see patients when they experience problems that require prompt care. By providing that care, we can make sure that your smile is preserved, and that the oral health trouble you experience is fully resolved. If you would like to find out more, reach out to our Sunny Smiles location on N Zaragoza Rd today at 915-849-9000.