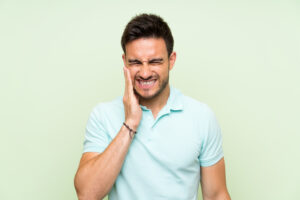 When you first notice that your jaw feels sore or stiff when you try to bite or chew food, it can feel like an irritation, but not a serious concern. However, when you continue to feel discomfort, or if that pain actually worsens in time, it can be difficult not to experience some alarm. You should know that these issues, along with more frequent headaches, problems with facial discomfort, teeth grinding, and neck and shoulder pain can all point to issues with TMJ disorder. TMJ therapy can help you by improving your jaw alignment and bite movements, which can reduce stress and resolve problems with daily discomfort. Sunny Smiles is ready to help people in and around El Paso, TX who worry that they have issues with their jaw that need to be treated.
How Can I Tell If I Am In Need Of TMJ Therapy?
There are different warning signs of TMJ disorder that can tell you something is wrong. They include problems with limited jaw movement, along with pain and sensitivity concerns. You can also have more frequent issues with teeth grinding and clenching, particularly at times when you are resting. There are more troubles to watch out for—you can have headaches on a more frequent basis, trouble with neck and shoulder pain, and facial discomfort.
Planning Treatment With Your Dentist
By planning TMJ therapy with your dentist, you can look forward to relief from your persistent jaw troubles. Through the use of a custom oral guard, we can actually help you hold your jaw in a more comfortable position so that you put less stress on the joints and muscles. This can lead to relief and help encourage better bite movement. We can also rely on an oral appliance to help with wear and tear from grinding and clenching.
Why Restorative Work Might Be Necessary
Through restorative dental work, we can make sure that all of your teeth are healthy and strong enough to provide bite support. If any are currently not in good health, or if they are not the right shape or size to provide the right force when you bite and chew, dental crowns can help. With custom crowns, we can encourage better dental health, make it easier to apply pressure when you bite, and improve your smile!
Plan TMJ Therapy At Sunny Smiles!
Through TMJ therapy at Sunny Smiles, people in and around El Paso who struggle with jaw pain, stiffness, and sensitivity can put these issues behind them. In addition to providing appliance therapy to help with poor alignment and movement, we can discuss oral health care to make sure your teeth are able to support your bite function. If you have questions, or if you want to move forward with treatment, contact our Sunny Smiles location on Dyer St in El Paso, TX by calling 915-859-7000.