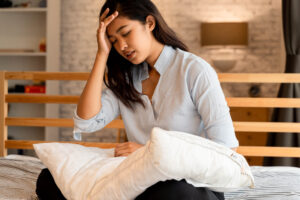 How often do you experience headaches that disrupt your daily activities? Are they becoming a more frequent concern? One reason for this is that you can have issues with poor jaw alignment and movement that negatively impact your quality of life. The stress from poor joint alignment and movement is capable of creating tension that leads to headaches and other problems that can negatively affect your quality of life. Fortunately, this is a problem that can be managed. Sunny Smiles is ready to provide relief through TMJ therapy that addresses headaches, teeth grinding, and other problems that can be traced back to difficulties with joint alignment and movement.
Your Headaches May Be Connected To Poor Jaw Alignment
As problems with your jaw movement and alignment worsen, you can experience more issues with headaches, difficult or limited bite function, facial discomfort, and other troubles. Headaches can become an issue in your daily life, one that impedes your ability to go about your daily routine and take care of different tasks. By bringing the problem up with your dentist, you can learn about treatment options that will help you put the matter behind you. As we look into providing TMJ therapy, we will look at how your joint alignment currently affects you, and we will look for solutions that reduce tension and encourage better movement and resting alignment.
Beginning TMJ Therapy
To begin TMJ therapy, we will provide an evaluation of your jaw function and joint alignment. By determining what your issues are, we can provide a treatment solution that helps improve your quality of life. A custom oral appliance can change the way your jaw is positioned so that you have less difficulty with daily discomfort. Appliance therapy is also helpful when you have difficulties with grinding and clenching while you sleep.
Restorative Services And Your Bite
It can be difficult for you to enjoy balanced bite movements when you have unresolved troubles with unhealthy teeth. To fix these issues, we can recommend that you undergo restorative dental work. With custom dental crowns in place over unhealthy teeth, it is possible for you to improve your bite function and also enjoy improvements to your health and appearance. A careful review can determine if it is necessary to restore teeth as part of a plan to improve your bite function.
Talk To Sunny Smiles About Your Issues With Headaches
Through treatment for TMJ disorder, our practice can help you deal with headaches, improve your bite function, and make a positive change to your quality of life. If you have questions or would like to find out more about the services that we offer, reach out to your El Paso, TX, dentists by calling our practice at 915-849-9000.