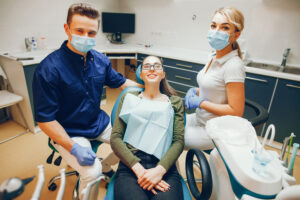 Generally speaking, a tooth extraction is something that we try to avoid. Whenever restorative treatment is required, Sunny Smiles will look at how we can proceed with your most conservative treatment option, one that preserves as much of your healthy enamel as possible. However, the approach changes when it comes to wisdom teeth. Because it is often difficult to make space for these teeth, they are removed before they fully erupt. This will help you avoid different issues, including crowding and dental damage, as well as complications from wisdom teeth that become impacted and shift as they move into place. At your regular dental exams, we can let you know when it is time to have your wisdom teeth out, and we can prepare you to successfully undergo this procedure.
Why Wisdom Teeth Cause Discomfort When They Erupt
It can be hard to ignore when wisdom teeth start to erupt, as the lack of space for them can lead to different concerns. You may feel pressure as they push against neighboring teeth. That pressure can lead to damaged molars and crowding as teeth shift due to pressure. You can experience more problems if your wisdom teeth become impacted, which means they can arrive at an angle and create more difficulties. If you start to feel discomfort at the back of your jaw that is persistent and increasingly hard to ignore, let your dentist know. It may be necessary to arrange the extraction of your wisdom teeth to stop further trouble from occurring.
Carefully Extracting Wisdom Teeth
Whether you come to our practice to address the discomfort of your erupting wisdom teeth or learn that you need an extraction during a dental checkup, we can help take care of this matter. Your extraction can occur before full eruption occurs, so we can take care of you before there are complications that need to be dealt with. Unlike when other teeth are extracted, there is not a need to have any prosthetic work performed, so you can simply recover from the initial procedure and move on.
Regular Checkups Keep You Informed About Your Oral Health Issues
By staying consistent with your regular dental exams and cleanings, you make yourself less vulnerable to problems that can require advanced restorative treatment. We can provide early warnings about dental decay, gum disease, and other problems, which means they can be dealt with while their overall effect on your oral health is limited.
Sunny Smiles Is Prepared To Help When Your Wisdom Teeth Need To Be Removed
By performing a timely wisdom teeth extraction, we can protect your smile and help you avoid dental discomfort! To find out more, contact our Sunny Smiles location on Dyer St in El Paso, TX by calling 915-859-7000.