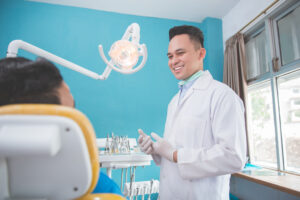 The right oral health treatment will permanently resolve a problem and leave you with lasting support for your tooth. While it can be less than exciting to learn that a root canal needs to take place to properly restore your oral health, you should be able to count on this care to permanently address an advanced cavity or injury. Unfortunately, there are times when patients continue to have problems, as well as times when new problems begin after a procedure has taken place. Sunny Smiles is ready to help you resolve oral health trouble when a root canal seems to have failed in properly restoring your oral health. By providing root canal therapy for a tooth that has undergone care in the past, we can make sure that a problem is fully resolved, or we can take on a new issue that has developed.
Root Canals Are Meant To Provide Permanent Relief From Dental Trouble
Through root canal treatments, we are able to take care of problems within the tooth structure that have become a source of concern. Through the removal of bacteria and infected tissues and the placement of permanent dental crowns, we can resolve potentially serious issues caused by advanced decay or physical trauma. Once this work is done, your tooth should remain safe and healthy. However, there are times when further work is required—this can be because the trouble with your tooth was not fully addressed, or because a new problem develops. In either case, we can provide a new root canal to make sure that the matter is fully resolved.
We Can See You If Your Dental Troubles Return After Root Canal Treatment
Through a careful evaluation, we will determine if the new or continued discomfort you feel requires a root canal procedure. If so, we will proceed with treatment to make sure that the matter is dealt with properly. In situations where another treatment is called for, we will carefully reveal the inner structure of the tooth and remove the threat. Once this is done, we can reseal your pulp and keep the tooth safe with a permanent restoration.
Effectively Restoring Your Tooth After A Procedure
The proper restoration is put in place after restorative dental work to make sure that your tooth stays safe and in good health, and to provide important functional support. The procedure that follows root canal therapy is one that provides you with a permanent dental crown. In addition to making sure that your restoration is durable, we can provide options that help preserve your appearance by closely matching the look of your enamel.
Sunny Smiles Can Help If You Need Treatment After A Root Canal
Through root canal treatment, our practice can help you take care of a tooth if there are new or continued problems after past treatment. If you have questions or would like to find out more, reach out to your El Paso, TX, dentists by calling our practice at 915-849-9000.