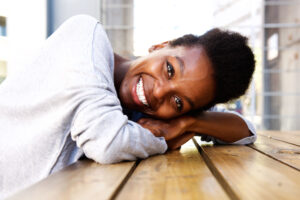 There are different reasons why people decide to start looking into cosmetic dentistry. Broadly speaking, those who express interest in treatment are eager to learn how they can make their smiles more attractive. However, the right path to improvement for one person can vary from the path that another individual should take. Patients at Sunny Smiles can find out about the different services that we make available to those who want to explore the benefits of esthetic treatment. With just one procedure, we can help you enjoy significant changes, even if your goals call for the treatment of several flaws.
How Can You Make Changes To Your Smile?
There are several cosmetic dental procedures that we provide to our patients. Our recommendations vary because our patients' needs will vary. While one individual may be eager to learn how they can make their teeth appear brighter and whiter, another can come in with concerns about dental damage or problems with misshapen teeth. We can recommend different treatment options based on what you might like to change about your smile, and we can help plan care around concerns you have over your treatment experience.
Planning Your Personalized Cosmetic Treatment
We can discuss the benefits to different services when we learn what you would like to change about your appearance. A teeth whitening procedure removes embarrassing stains to make your enamel appear brighter, healthier, and more attractive. We can reshape teeth, change their sizes, and make other important adjustments through conservative tooth bonding and contouring work. Our services also include treatments with porcelain veneers to make meaningful and lasting improvements. For those who have problems with gums that are too bulky or look uneven, gum contouring work is also an option.
Discussing Restorative Work For Vulnerable Teeth
A review of your teeth can reveal problems that require more than just cosmetic work. If there are problems that affect your bite function or oral health as well as your smile, we can discuss the benefits of restorative treatment with custom crowns. The dental crowns that we provide can offer functional protection as well as positive cosmetic changes. Because of this, we can make significant overall changes that improve your appearance, bite, and oral health!
Learn More About Cosmetic Dental Work At Sunny Smiles!
By proceeding with the right cosmetic dental procedure, you can look forward to seeing meaningful smile improvements. Our practice provides multiple treatment options to the people in and around the El Paso area. With as little as one procedure, you can see the kind of striking changes that make you feel renewed confidence in your smile and overall appearance! If you would like to learn more about how we can help you, contact our Sunny Smiles location on Dyer St in El Paso, TX by calling 915-859-7000.