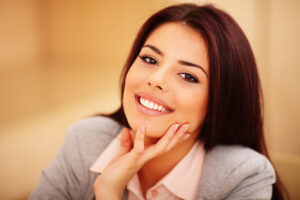 Whenever you look at your smile in the mirror, are your eyes drawn to a certain flaw, or to multiple flaws, that make you less confident in the way you look? Between naturally occurring issues and trouble with injuries and poor oral health, it can be hard for many people to feel happy with their appearance. Fortunately, there are several services that can take on the kinds of problems that lead to dissatisfaction with the way you look. At Sunny Smiles, we are ready to discuss the advantages of cosmetic dentistry with people in and around the El Paso area. With just one procedure, you can see remarkable results and enjoy a welcome confidence boost!
Is There Something You Would Like To Change About Your Smile?
For many people, cosmetic dental work can help with at least one active concern. Whether you have one specific issue or several problems you would like to take on, our practice can work with you to help you see your desired improvements. Because we have several approaches that we can take when caring for individuals with esthetic worries, we can provide an experience that is better-suited to your needs and concerns. In some cases, we can even provide restorative dental work to make sure that your oral health and appearance improves as a result of care.
Different Problems We Can Resolve Through Cosmetic Treatment
Problems with dental discoloration, damage to your tooth structure, concerns about tooth shape or size, and even issues with the appearance of your gums can hurt your confidence. Fortunately, with the right procedure, you can see the right outcome from treatment and enjoy meaningful results. We can help you prioritize improvements that come with minimal changes to your tooth structure, or we can discuss your options if you want to see results in the shortest time possible.
Why Some Flawed Teeth Need The Support Of Dental Crowns
A misshapen, small, or injured tooth can be more than just an issue for the way you look. This kind of problem can also make it harder for you to comfortably bite and chew, which can lead to more oral health difficulties over time. In a situation where we are concerned about a patient's appearance and dental function, we can recommend that a dental crown be used for support. With a custom crown in place over your tooth, you can see a welcome smile improvement as well as a positive change in your bite function.
Talk To Sunny Smiles About Scheduling Cosmetic Dental Work
With the cosmetic dental services available to our patients, our practice can help people in and around El Paso take on a range of concerning smile issues. If you would like to find out more, reach out to our Sunny Smiles location on Dyer St in El Paso, TX by calling 915-859-7000.