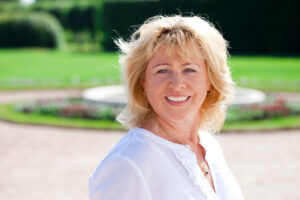 Are you eager to make a real change to your smile? The idea of planning a smile makeover may feel intimidating, but by exploring this as an option, you can find that cosmetic dental work makes real results easier to attain than you anticipate. As little as one procedure can be all that you need to see significant overall improvements. Sunny Smiles can work with you to make sure that you see those changes that you want. We can help whether you want to make meaningful changes in the shortest time possible, or if you want to employ a strategy that offers changes while minimizing the overall effect on your tooth structure.
How Would You Like To Show Off Meaningful Smile Improvements?
There are different approaches that we can take to helping a person show off a smile makeover. The variable solutions help people with different concerns and priorities. For some, it will be necessary to discuss both restorative work and cosmetic dental services in order to make the right overall improvements. For others, ideal results can be gained from as little as one procedure! Based on our review of your current smile and a discussion about your goals for treatment, we can help you proceed with care and see exciting overall results.
Discussing Your Cosmetic Treatment Options
There are several cosmetic treatment options that are capable of making welcome changes to a person's appearance. With porcelain veneers and tooth bonding and contouring services, we are able to resolve a number of problems at one time. These procedures make corrections to tooth shape, size, and color that can hurt how you look. While veneers offer more durable improvements, bonding and contouring work can be more conservative and take less time. Other approaches, like teeth whitening and gum contouring treatment, can lead to improvements without permanent enamel alterations.
Discussing Restorative Services As Part Of A Smile Makeover Plan
It may be necessary to take on oral health concerns to complete a smile makeover. Injuries, teeth affected by decay, and gaps from tooth loss can all hurt the way you look. Through the appropriate care, we can resolve problems with your well-being and also take on concerns about your appearance that have left you unhappy with how you look. Because we use restorations that match tooth structure, patients who are concerned about how they will take on all of their oral health and cosmetic issues can find that stunning esthetic improvements are surprisingly easy to show off!
Talk To Sunny Smiles About Starting A Smile Makeover!
If you are interested in making meaningful changes to your smile, Sunny Smiles is ready to help! To learn more about a smile makeover, reach out to your El Paso, TX, dentists by calling our practice at 915-849-9000.